Let's go camping near Garden of the Gods!
Camping can often be a cheaper alternative to an Airbnb or hotel, and it's often more adventurous. You'll get a much richer experience of the Rocky Mountains beauty—the crisp mountain air, better chances at spotting wildlife, and easy access to trails. Best part of all—cooking over an open fire. To really experience camping to its fullest, unplug from your electronic devices and commit to spend your time focused on people and nature.
What kind of camping is available?
You'll find a variety of camping options close to Garden of the Gods and Colorado Springs. There are RV hookup sites that have so many amenities and services (laundry facilities, showers, swimming pools, TV lounge, arcade, wifi), it'll feel like you actually did choose an Airbnb and not the camping option. Of course, there are also sites for traditional tent camping with the bonus of nearby restrooms. Or if you're really ready to rough it and experience nature, you can choose a camping option in the national forest that doesn't even have a proper tent site.
Here are some great places to camp near Garden of the Gods:
Garden of the Gods RV Resort
The Garden of the Gods RV Resort offers tent sites, a full range of simple to luxurious RV sites, as well as actual cabins (if you just really can't camp).
With a variety of amenities (playground, showers, swimming pools, arcade room, gift shop, tv lounge, complimentary wifi), this will barely even feel like camping. Still, you'll wake up to see you're at the foot of Pikes Peak near Old Colorado City and Manitou Springs, only minutes from Garden of the Gods. It's a great option if you want to camp really close to the Garden of the Gods while having access to modern amenities.
Cost varies depending on what site you pick. Visit their website for a full list of options. They book up quickly, so plan your reservation early!
Address: 3704 West Colorado Avenue, Colorado Springs, CO 80904
Fountain Creek RV Park
Located minutes from Garden of the Gods, the Fountain Creek RV Park is a great RV camping option. Located next to the bubbling Fountain Creek, the RV park is also close to restaurants and shopping near Old Colorado City, Manitou Springs, and downtown Colorado Springs.
Compared to the Garden of the Gods RV Resort, the Fountain Creek RV Park has only basic amenities, but they do have internet and cable tv.
Note: This location only has hookups for RVs, not campsites. They do also have some camper cabins.
Costs vary. To make a reservation or learn more, call 719-633-2192.
Address: 3023 1/2 W Colorado Avenue, Colorado Springs, CO 80904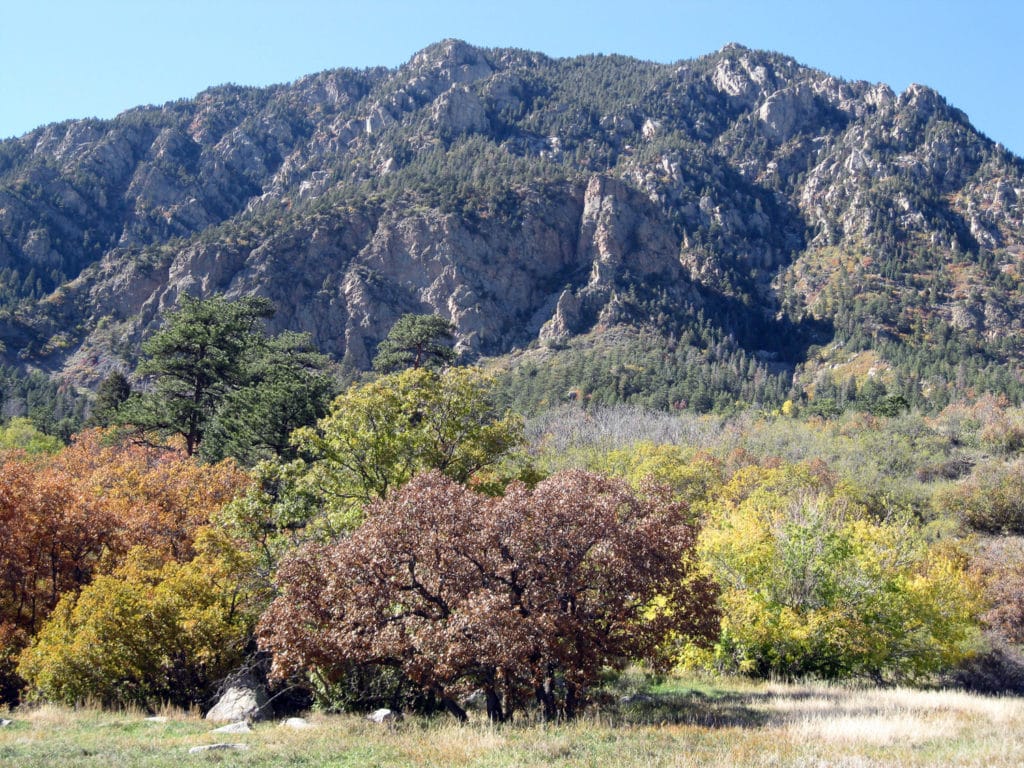 Cheyenne Mountain State Park Campsites
Located in the Cheyenne Mountain State Park, these tent campsites are perfect if you want to hike or bike and see wildlife on over 28 miles of trails. Located approximately 30 minutes south of Garden of the Gods in a state park, this campsite is secluded and a true mountain experience.
Featuring full service campsites and some basic walk-in tent sites, the campground also has coin-operated showers, laundry facilities, a playground, and more. There nearby visitor center offers souvenirs and refreshments, as well as just a place to relax. This is a great campsite for all ages, especially if you want to tent camp away from the RVs.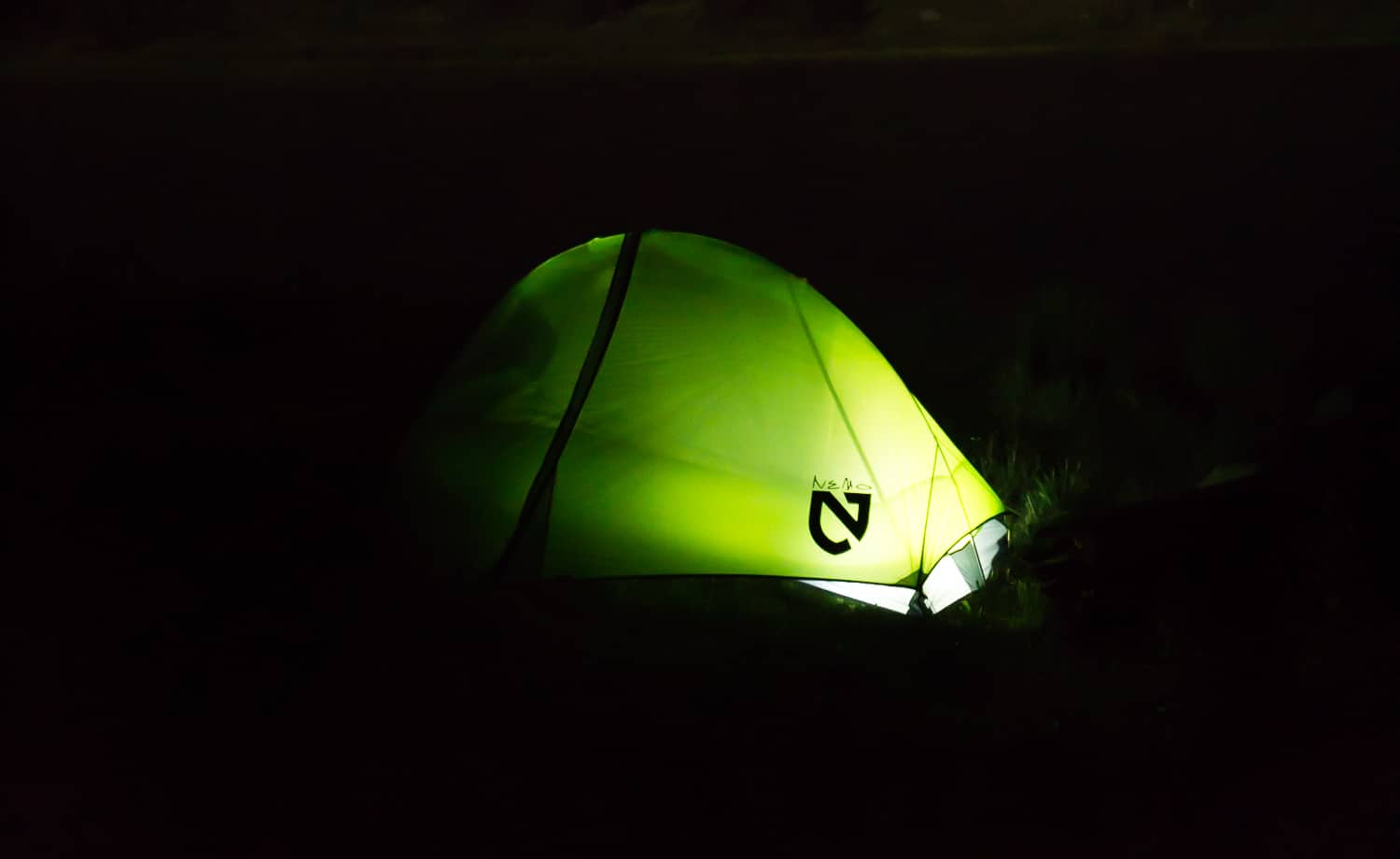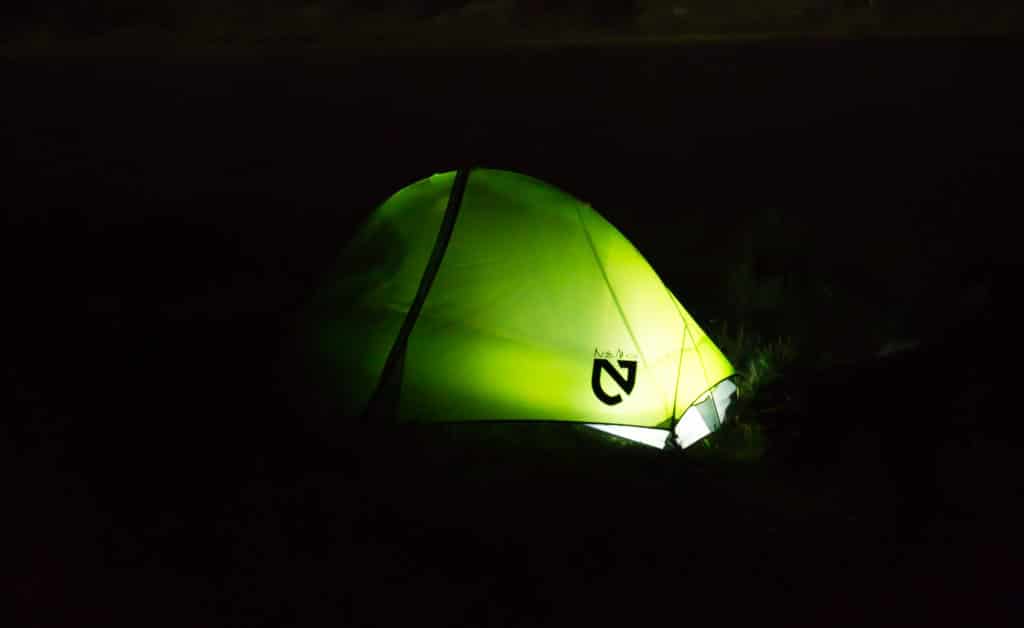 Reserve your campsite online. Visit their website for more details.
Cost: Depending on the site type you choose, costs range from $28 to $41 per night (rates may also vary across dates).
Address: 410 JL Ranch Heights, Colorado Springs, CO 80926
Golden Eagle Campground
Located south of Colorado Springs, approximately 30 minutes from Garden of the Gods, the Golden Eagle Campground is a quiet place to camp with breathtaking views. The campground offers over 12 miles of hiking trails as well as lakes for fishing.
The Golden Eagle campground offers tent campsites as well as full hookups for RVs.
Rates vary. Learn more at their website.
Address: 710 Rock Creek Canyon Road, Colorado Springs, CO 80926
Lone Duck Campground
Located west of Colorado Springs, the Lone Duck Campground is approximately 20 minutes from Garden of the Gods. Still close to Pikes Peak, it's outside the city lights for a secluded, mountain experience.
The Lone Duck Campground offers tent campsites, RV hookups, and camper cabins. They have restrooms and showers—no coins needed. With a fishing pond stocked with rainbow trout, a famous $5 breakfast, swimming, basketball court, game room, and internet, this is a perfect camping spot for families.
The Lone Duck Campground is open only from May through September.
Cost varies. Visit their website for more information.
Address: 8855 West Highway 24, Cascade, CO 80809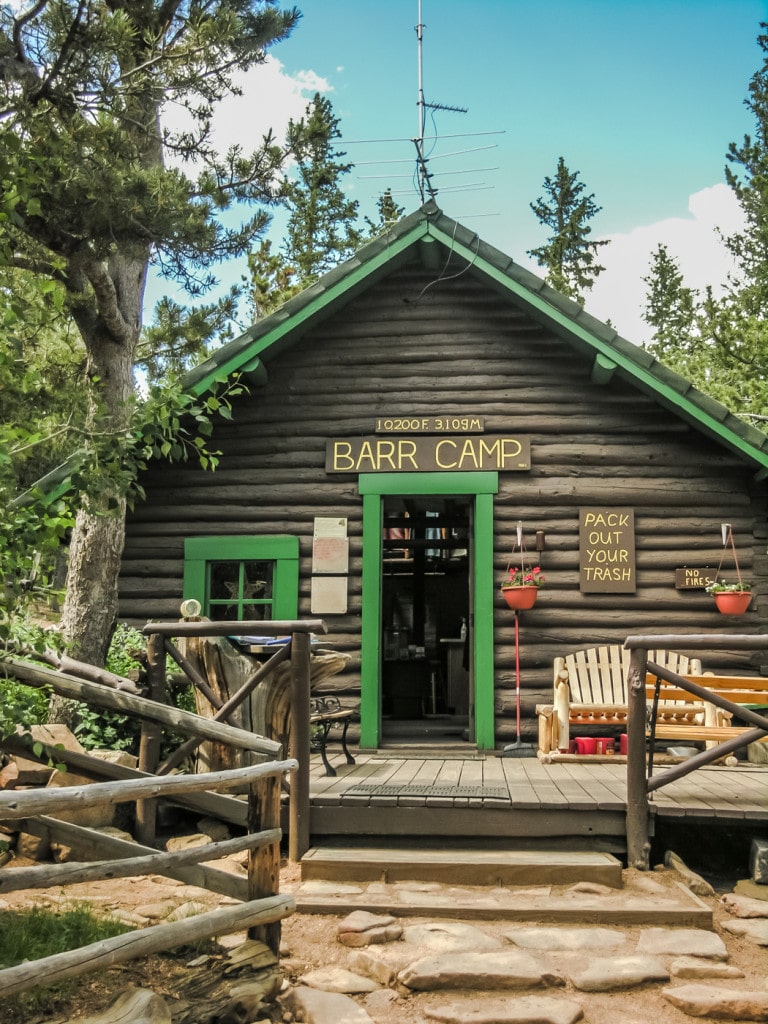 Barr Camp
Barr Camp is located along the Barr trail—and you have to hike to it. Barr Camp is a 6.5 mile hike from the trailhead in Manitou Springs. Located just 6 miles from the Pikes Peak summit, the Barr Camp is a great camping option if you want to hike Pikes Peak. Note Barr Camp's elevation is 10,200 feet, so it'll be chilly any time of year, and there's no potable water.
At the Barr Camp, you can rent a cabin, a lean-to shelter, or a designated tent campsite, and they also offer meals. Or you can camp wherever along the Barr trail, following the national forest tent camping rules and leave no-trace guidelines.
Visit their website for more details.
Cost: For tent camping, it costs $12 per person (which does include breakfast). National forest tent camping is free, though donations to Barr Camp are encouraged.
Address for the trailhead (not the camp): Hydro St., Manitou Springs, CO 80829 (just past the cog railway lot).
So, are you ready to camp?
Get outside and explore some of these great camping options! During your visit to Colorado Springs, make sure you also check out these three can't-miss breweries.