Looking for hotels near Garden of the Gods when visiting the famous park is a smart idea. Centrally located in Colorado Springs, you are only a few minutes away from most of the main attractions in the city, less than a 10 minute drive away from the Cheyenne Mountain Zoo, Downtown, the Manitou Incline, the Air Force Academy, Helen Hunt Falls, and Gold Camp Road. Given the central location, hotel options in all price ranges are abundant, from value motels to the world renowned Broadmoor resort and everything in between.
$100/Night (or Less) Hotels Near Garden of the Gods
If affordability is your only criteria in choosing a hotel, you can definitely find cheaper options than presented in this list. The specific hotels listed in this category are the nicest available for $100 a night or less around Garden of the Gods.
The Buffalo Lodge is an incredibly unique hotel located less than a mile from Garden of the Gods park on a bike path that connects Colorado Springs and Manitou Springs. At the core of its vision, the Buffalo Lodge is a resort for cyclists. Their dream is to create an environment that serves as a starting point for your adventure into Colorado Springs and the surrounding beauty. The design and culture created by the owner is one that glorifies being outdoors and experiencing all Colorado has to offer, specifically using cycling as the medium. As a result, the lodge has a spunky and friendly atmosphere that encapsulates the spirit of the Front Range.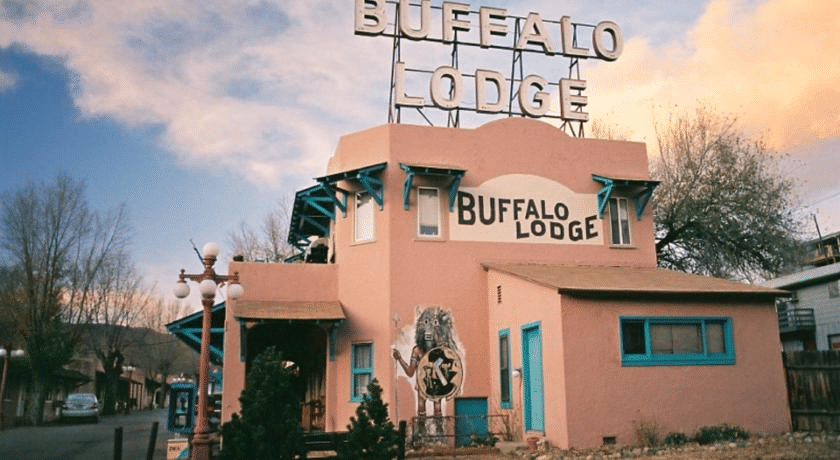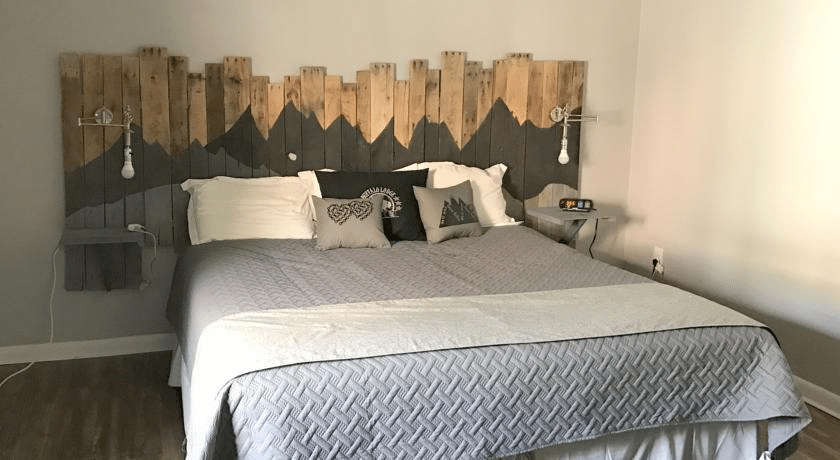 Beyond its inviting atmosphere, it is affordable and very highly reviewed. Rooms include a mini-fridge, a microwave, and a coffee maker. The rooms are well kept and clean with a rustic western theme that include a variety of bicycle decorations. The bathrooms are very clean and include free toiletries. There is an outdoor swimming pool that operates in the summer as well as a full bar. They also price match any deals found on travel websites like Booking.com or Expedia.
Overall, for less than $100 a night, you can't beat the Buffalo Lodge. Friendly staff, clean rooms, and an authentic outdoorsy atmosphere catered specifically to cyclists provide the perfect environment for a Colorado vacation.
Rainbow Lodge and Inn is another great value stay located just a mile away from Garden of the Gods. With impressive facilities despite the low price, it is a bang for your buck way to experience all that Colorado Springs has to offer. Similar to the Buffalo Lodge, they market themselves as the gateway to your Colorado adventure. With such close proximity to so many attractions, it is a great place to stay.
The rooms feel vintage, old fashioned, and cozy. The entire lodge is kept very clean and all rooms come with a TV, microwave, and mini-fridge. Bathrooms are kept very clean and include fresh linens and free toiletries. Free high speed wifi and continental breakfast are included with any room package.
If a cozy, quiet stay at a great price is what you are looking for, search no further than the Rainbow Lodge and Inn.
When it comes to ultra value, the Magnuson Hotel Manitou Springs is as good as you can get without sacrificing comfort and cleanliness. With prices as low as $75 a night and a central location just half a mile away from Garden of the Gods, it is hard to believe such a place actually exists. What's more is that from reviews, they fall near the top of all hotels in Colorado Springs for staff friendliness and overall cleanliness.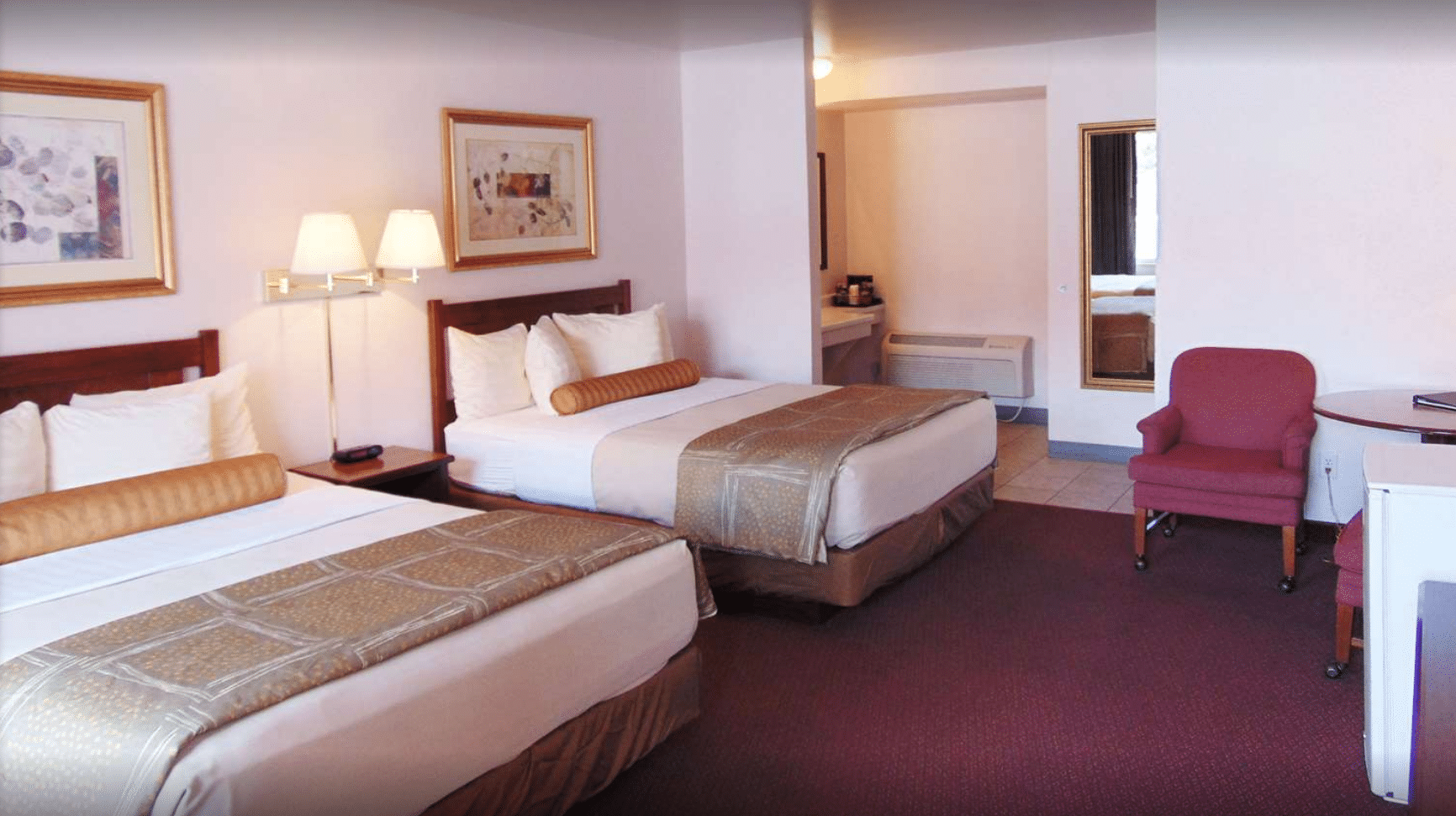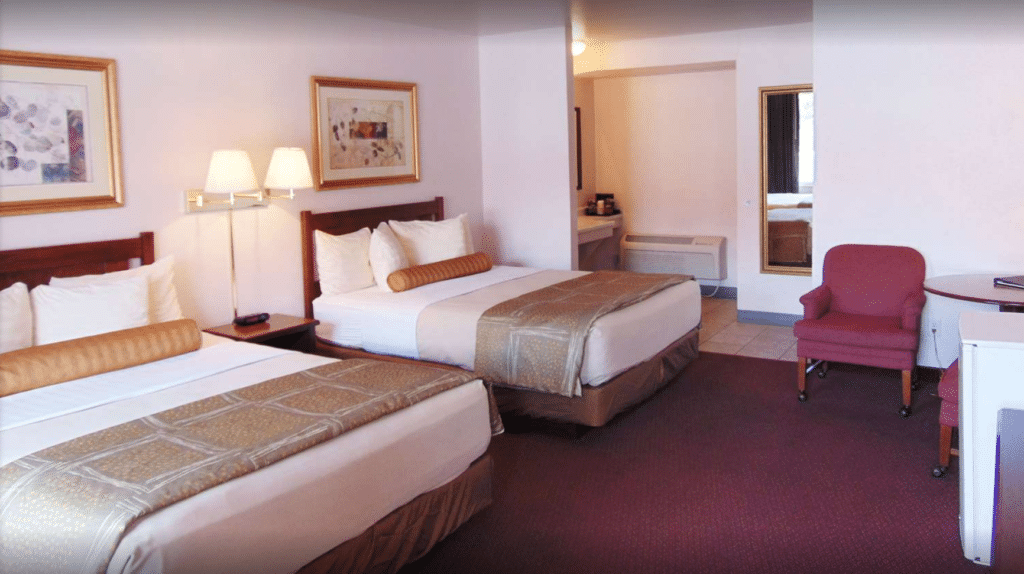 From an amenities perspective, each room comes with a mini-fridge, a coffee maker, and free toiletries. Free high speed wifi is provided, there is an indoor pool with a jacuzzi, and continental breakfast is provided.
If you are looking for a more traditional hotel stay at a great price in a convenient location, the Magnuson Hotel Manitou Springs is the place for you. With great service, clean rooms, and an unbeatable location at a killer price, the Magnuson Hotel Manitou Springs is consistently reviewed as one of the best value hotels in the Colorado Springs area.
Other $100/Night or Less Hotels Near Garden of the Gods
If cheap is the name of your game with other real requirements, there are a multitude of other hotels very close to Garden of the Gods that are very cheap but may lack friendly staff and general cleanliness. Check out Booking.com to learn about the prices of these other hotels.
$100-$200/Night Hotels Near Garden of the Gods
Hotels and resorts in this intermediate price range are great for family vacations intended to have very nice living accomodations without going overboard on price. Don't expect to have your own personal masseuse available on request, but you can definitely expect nice living accomodations. These hotels can best be described as business class.
Located at the north edge of downtown Colorado Springs, the Holiday Inn and Suites Colorado Springs Central, about 3 miles away from Garden of the Gods, is a great choice for anybody. This specific location is the newest and most modern Holiday Inn Express in Colorado Springs, which is why it is a four star hotel. However, what makes the hotel stand out is its superior service. Based on reviews, they have the best service of any hotel in Colorado Springs (not counting the Broadmoor). In fact, they have a free shuttle that ferries between the bar scene downtown, Old Colorado City, and the hotel.
Rooms come with a mini fridge, a coffee maker, an iphone docking station, and a flat screen TV. (It is worth noting that the hotel is 100% smoking free). Bathrooms are stocked with fresh linens and come with free toiletries. In terms of amenities, the hotel includes an indoor pool, a hot tub, a fitness center, a 24/7 business center, and a continental breakfast that is reviewed very highly.
Overall, while the hotel is of course very family friendly, it is best suited for those on business or people looking to experience Colorado Springs' nightlife. With four star accomodations, you can't go wrong with the Holiday Inn and Suites Colorado Springs Central.
The Cliff House at Pikes Peak is by far the most unique hotel in Garden of the Gods. Full of old world charm, this four star hotel will have you forgetting you are in Colorado and not the English countryside. With a combination of hotel guest rooms and luxury suites, the Cliff House is a bit of a crossover between the middle and upper range pricing. The hotel rooms are relatively affordable but the suites provide a more resort-like experience. However, whatever accomodations you choose, the level of service, coziness, and luxury will be the same: excellent.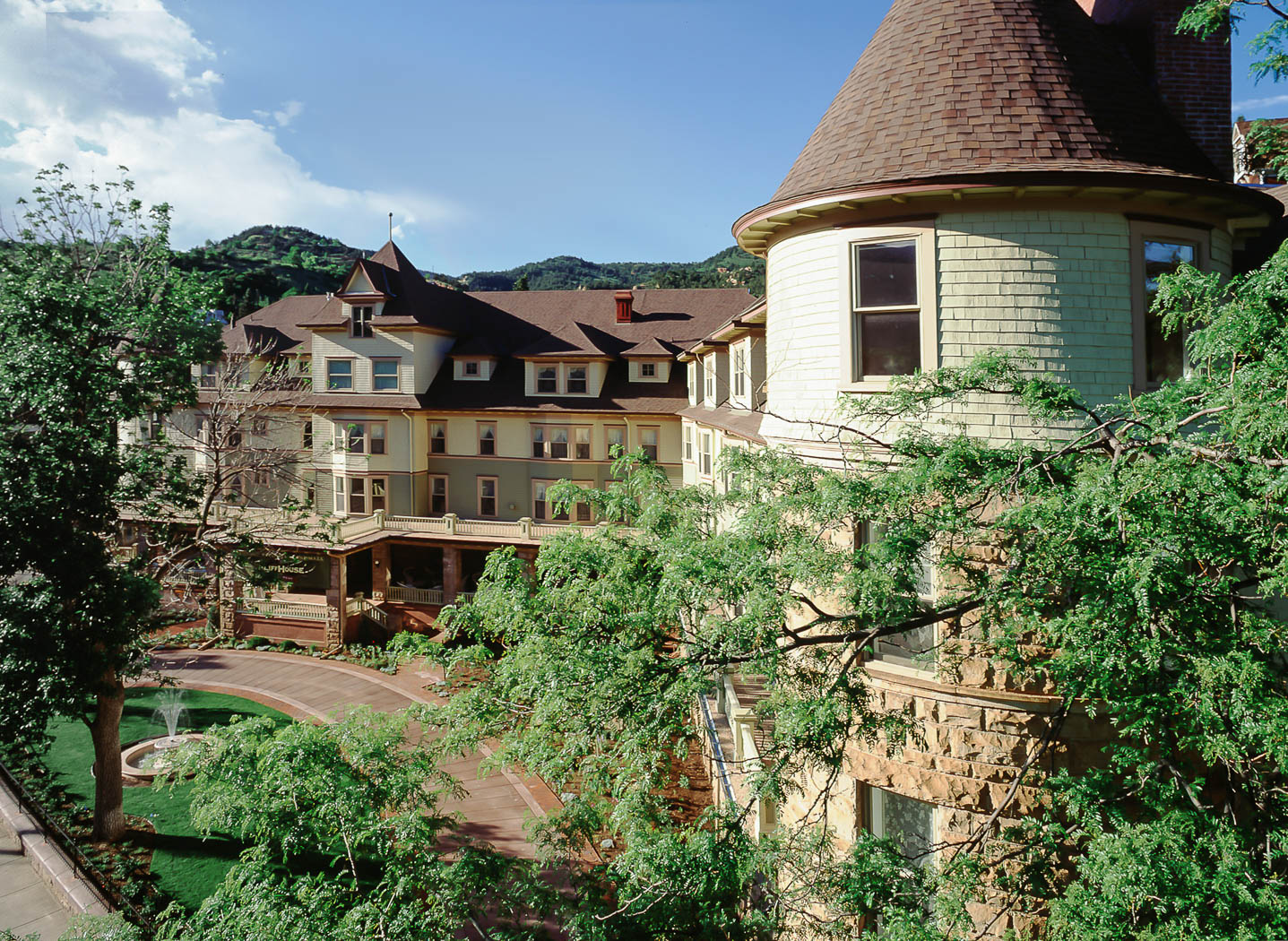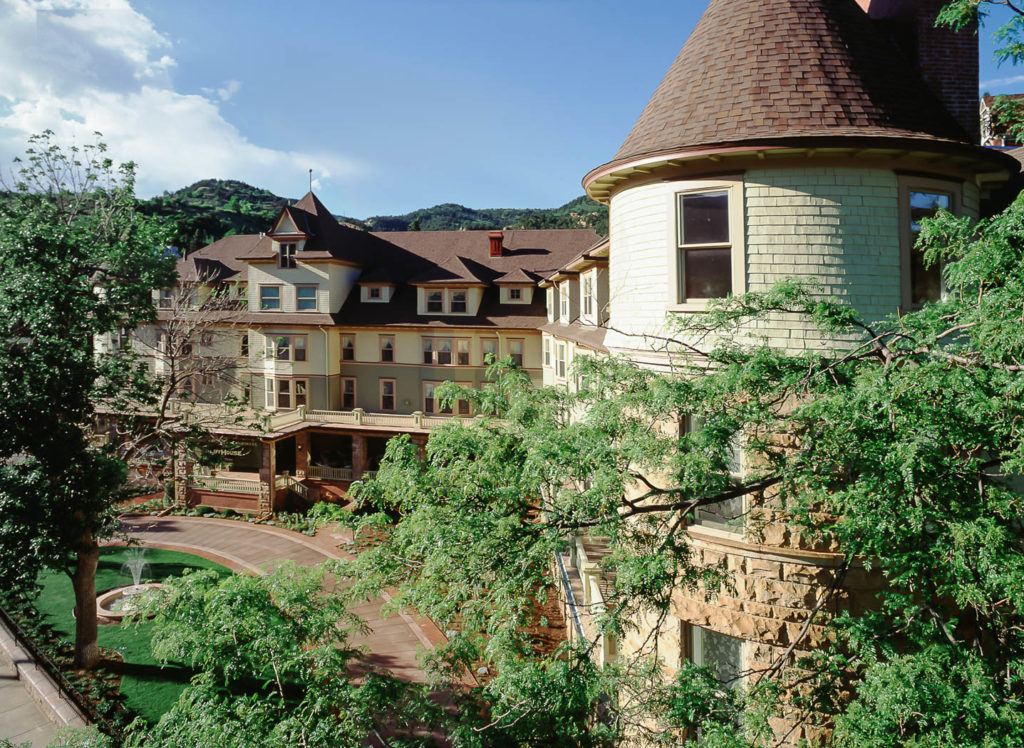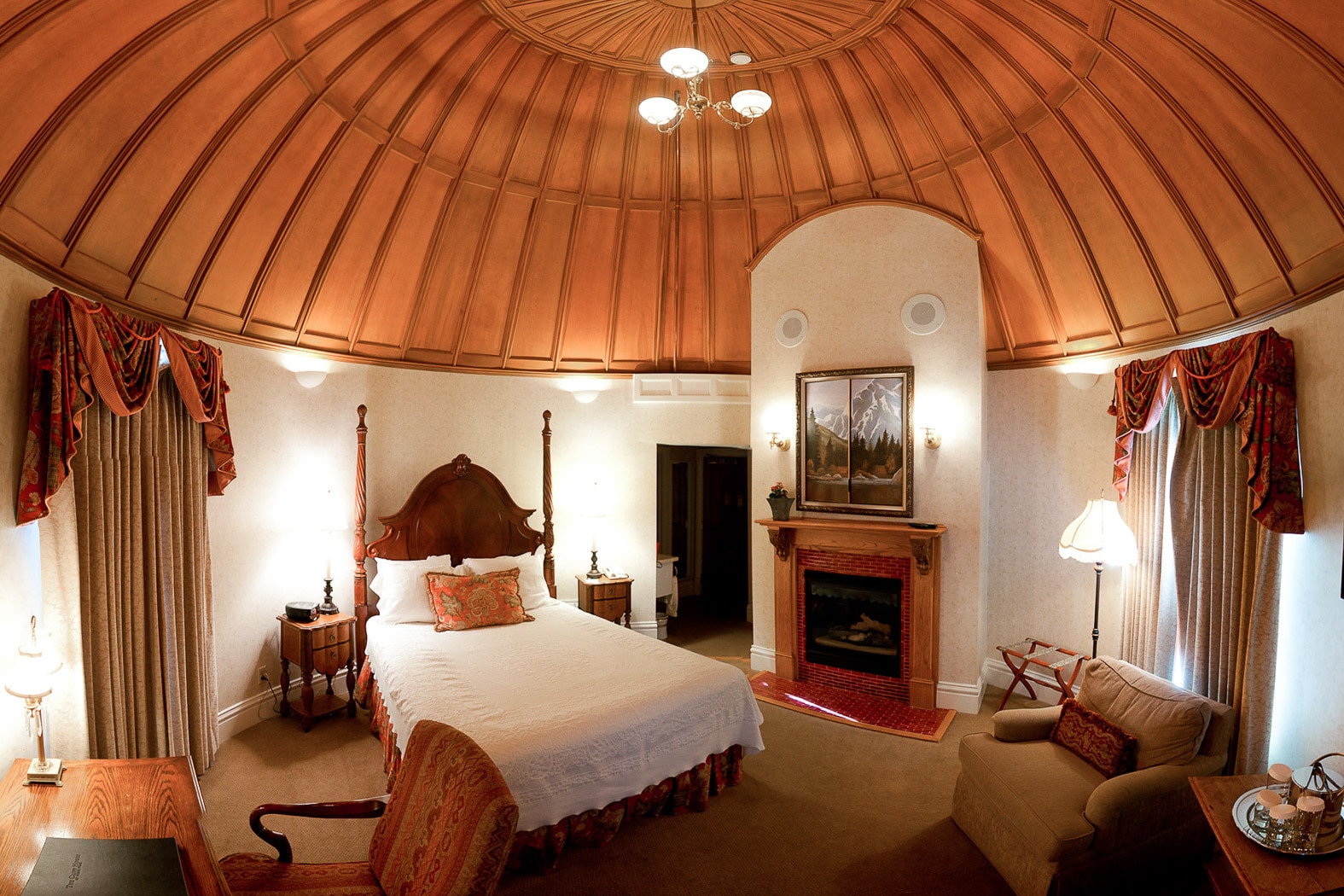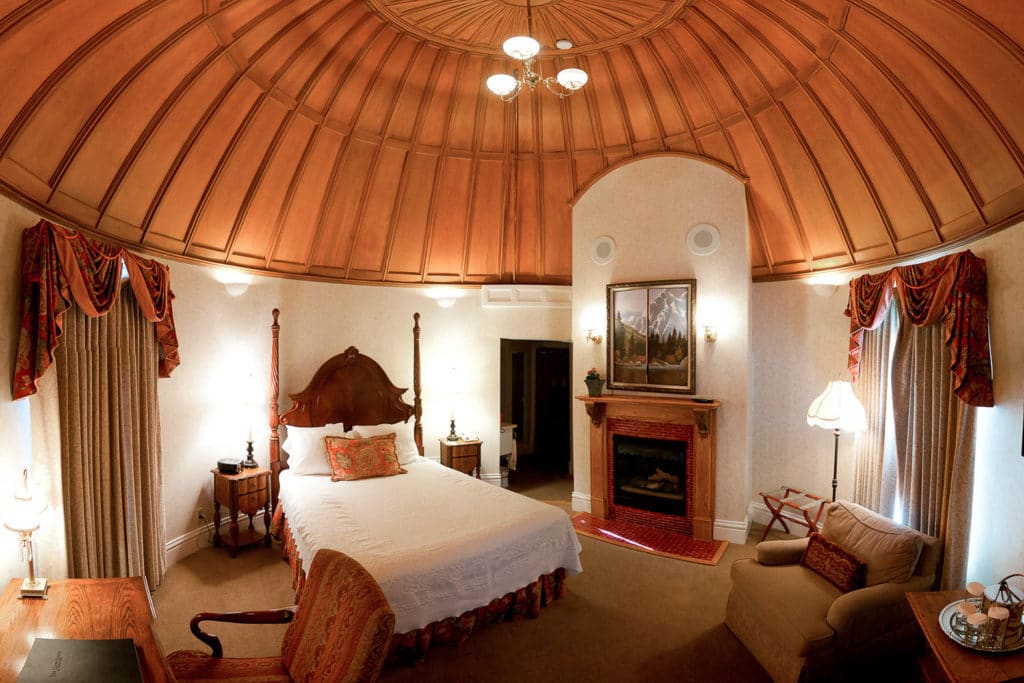 Beyond service, the hotel is equipped with 2 delicious restaurants, a buffet, an 800+ bottle wine cellar, a fitness center, and multiple event locations. The Cliff House boasts some of the best facilities for a hotel in the mid price range. Many rooms include gas fireplaces, steam showers, two person bathtubs, and towel warmers.
If a luxurious, romantic stay reminiscent of 1800's England and more affordable than The Broadmoor is what you are looking for, the Cliff House at Pikes Peak is the clear choice. With excellent dining, beautiful exterior and interior design, and luxurious rooms, the Cliff House is a great option for couples aiming to get away for a romantic Colorado vacation.
The Red Wing Motel is the most affordable hotel in this mid range pricing list. From a facilities perspective, it is similar to the Rainbow Lodge and Inn previously mentioned. However, from reviews, what makes it stand out is its exceptional cleanliness and service. The Red Wing Motel prides itself on its history having existed as a route 66-esque motel for the last 65 years. With a free shuttle that takes visitors all through Manitou Springs and located only a mile from Garden of the Gods park, it is clear the ownership has a reverence for local history as well.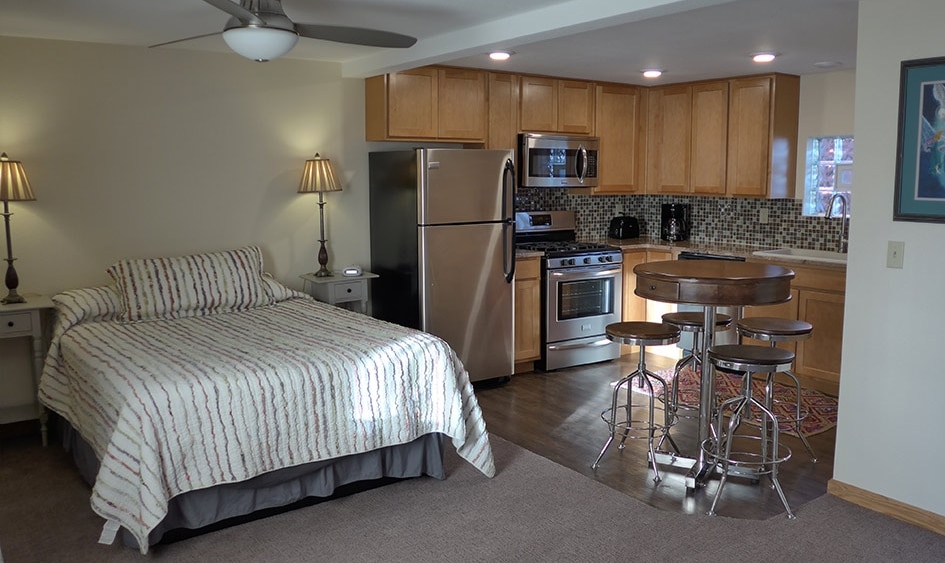 Rooms are equipped with flat screen smart TV's with Netflix, a coffee maker with coffee, fresh linens, and free toiletries. Although relatively standard as far as hotel rooms go, the mountain view and the cleanliness make the rooms even better.
Overall, The Red Wing Motel is a great option for families on a road trip to Colorado. With such great service and an emphasis on local history, the Red Wing Motel is a great option closer to $100 a night as a opposed to many of the others in this price range.
The Hyatt Place Colorado Springs Garden of the Gods is a modern, chic hotel located right at the corner of I25 and Garden of the Gods Rd. Located extremely close to Garden of the Gods park and with a great reputation for amenities and service, the Hyatt Place is one of the best modern hotels you can choose for a Colorado vacation or business trip.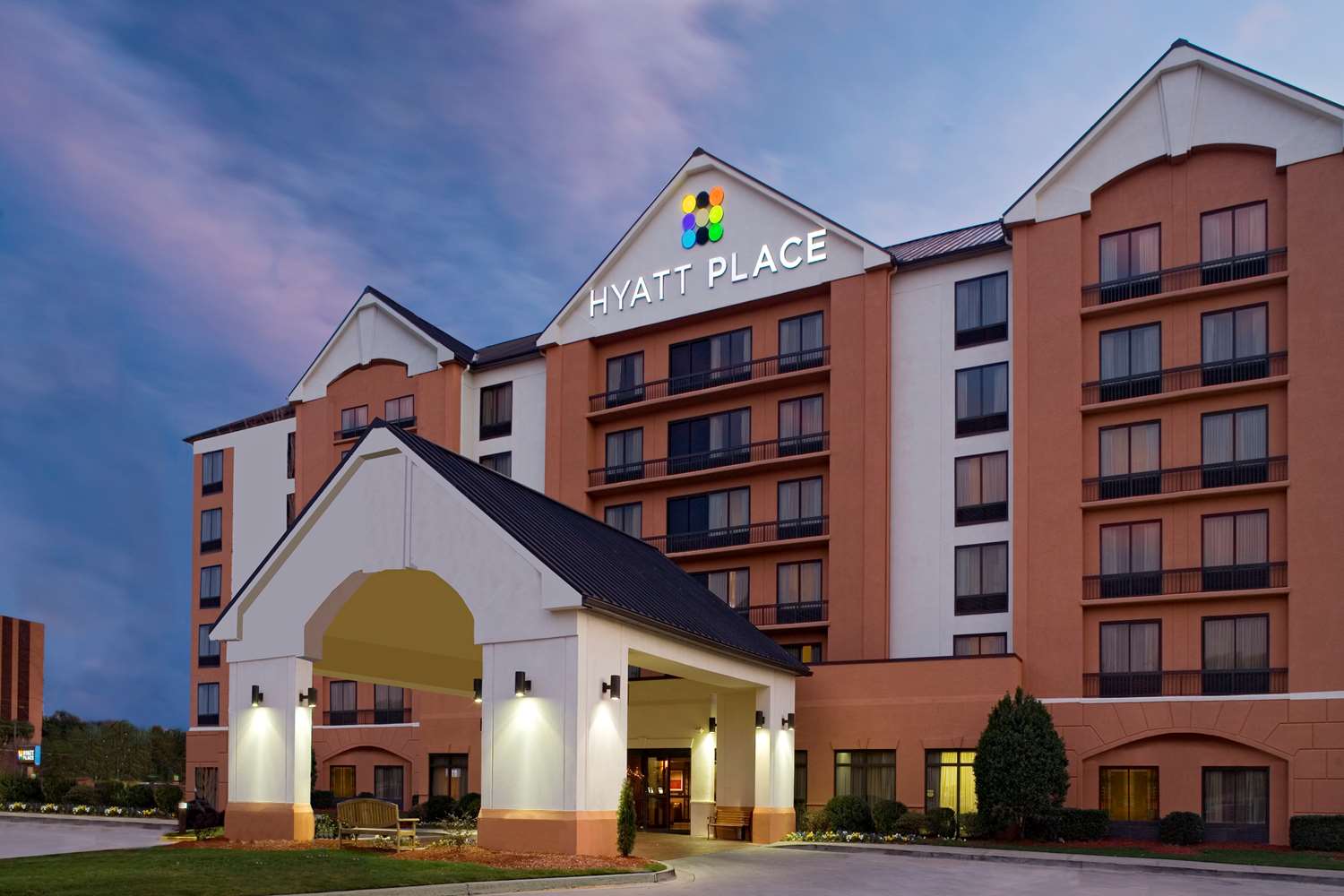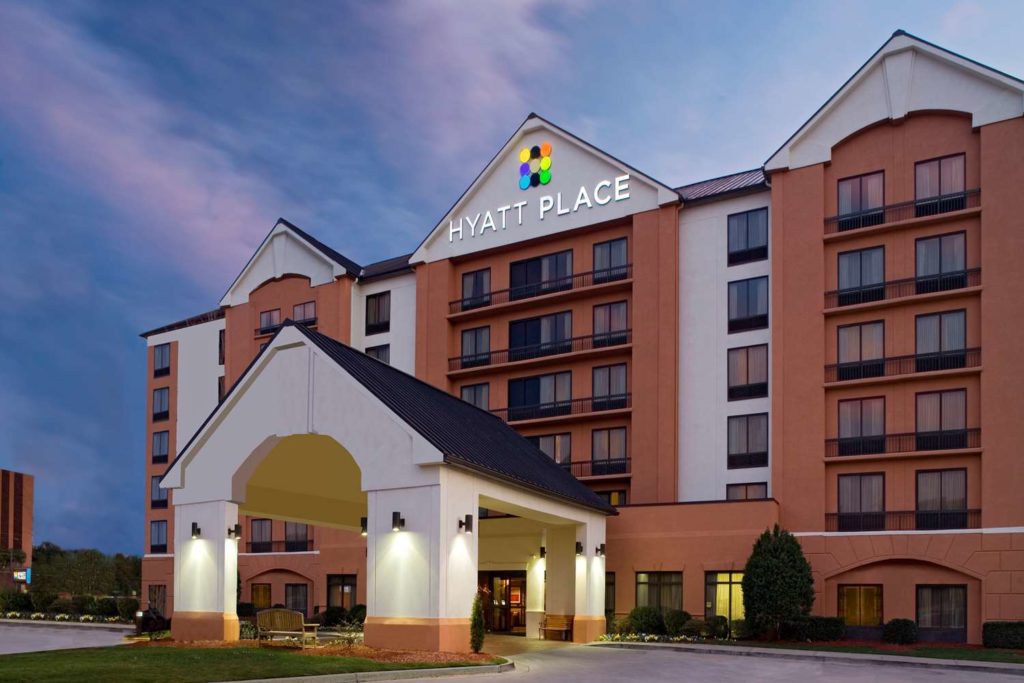 What makes the Hyatt Place stand out is its modern facilities and amenities. Dining is highly reviewed with a complimentary breakfast made from fresh ingredients and 24/7 dining the rest of the day and night at the Gallery Market. Furthermore, the hotel boasts free high speed wifi, a premium coffee and cocktails bar, a business center, and an outdoor pool (open in the summer months). Rooms are newly renovated with beds that are highly reviewed for comfort, 42" TVs, fresh linens, and granite bathroom countertops with free toiletries.
Overall, the Hyatt Place Colorado Springs Garden of the Gods, like the Holiday Inn, is a great option for those looking for a premium traditional hotel experience. With great food and newly renovated modern facilities, a premium hotel experience is exactly what you get.
The TownePlace Suites Colorado Springs feels more like an apartment complex than a hotel because for many, it is. Offering relatively affordable long term stay or short stays, this is a great option. It is consistently reviewed extremely highly for cleanliness and service. Located a little further away from Garden of the Gods than other hotels (4 miles away), it is still included because it offers relatively affordable suites for those with bigger families or those who just need a little more space.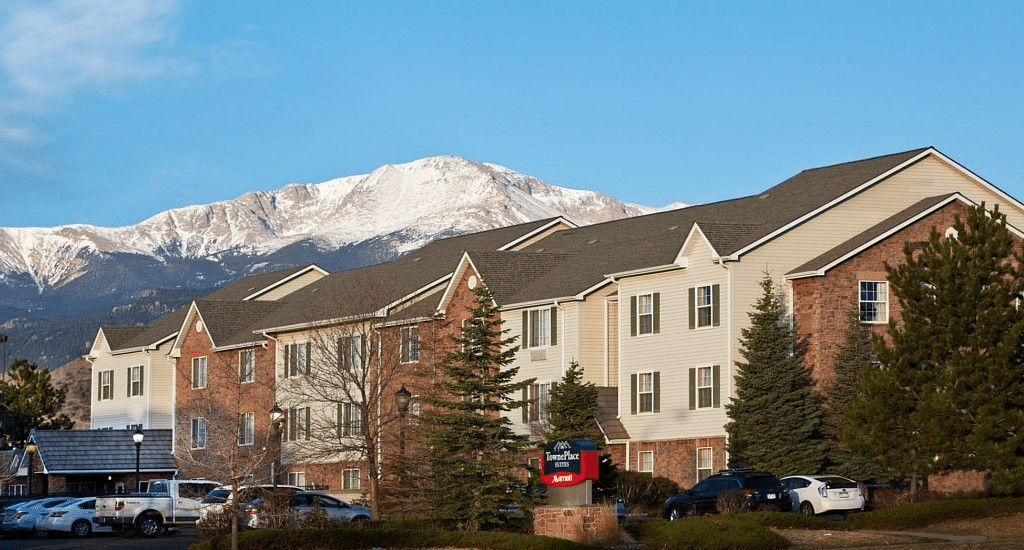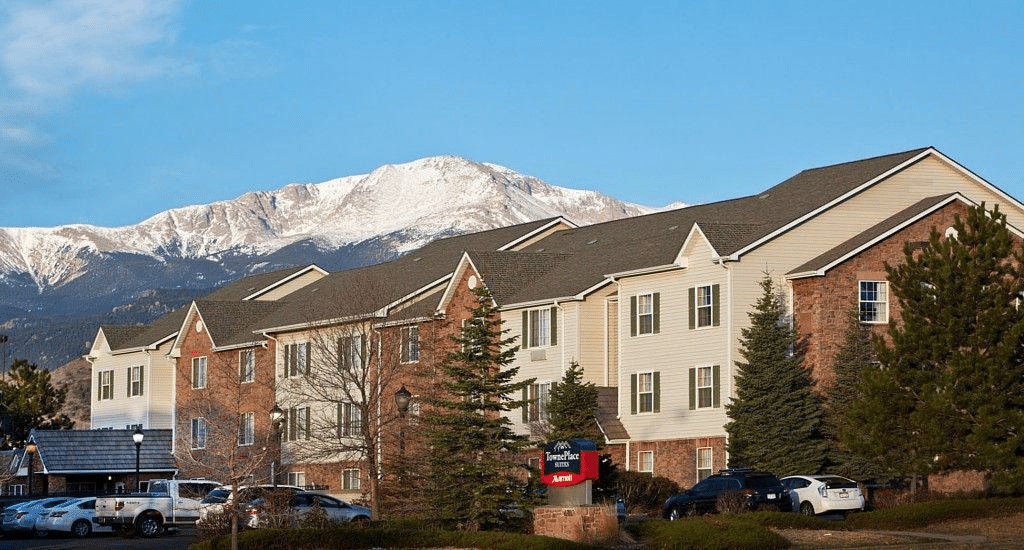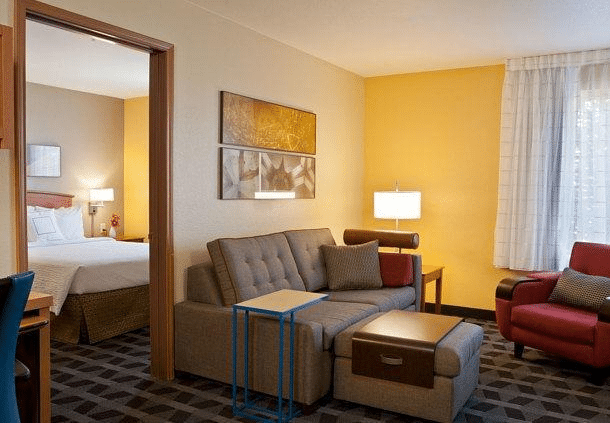 Nonetheless, the service and facilities are still great. With an indoor and outdoor (seasonal) pool, a fitness center, and free daily breakfast, the hotel has everything you would expect from a premium hotel. All rooms, suite or studio, all have a personal office space and a complete kitchenette. Of course, great wifi, fresh linens, and free toiletries are included.
Overall, this hotel is great for those with big families, like extra space, or simply have a DIY attitude to vacations. The kitchenette makes cooking easy and the suites are incredibly spacious. Overall, when scheduling your Colorado Vacation, do not rule the TownPlace Suites Colorado Springs out.
Normally, a Days Inn would be included in the low price range list, but because of the prime location (a mile from Garden of the Gods Park) and consistently excellent reviews, the Days Inn Manitou Springs Pikes Peak falls within the mid price range, and for good reason.
With an indoor and outdoor pool, a hot tub, complimentary highly rated breakfast, a fitness center, and meeting rooms, this is great hotel to bring the kids to. With a modern rustic design, it is just what you would expect from a Colorado hotel at the foot of the mountains. Rooms are exceptionally well kept and service is reviewed very highly. Rooms include a flat screen TV, fresh linens, and free toiletries.
Similar to the Red Wing Motel, the Days Inn falls at a price on the lower end of this price range. Yet with exceptional reviews for service, cleanliness, dining, and an overall homey feel, the Days Inn Manitou Springs Pikes Peak is a great option for your Colorado stay near Garden of the Gods.
Luxury Hotels Near Garden of the Gods
The hotels in this price range are the very best hotels in Colorado Springs and even in the state and not surprisingly are all located pretty close to Garden of the Gods due to its ideal location in the city. If you are looking for luxury and a resort style stay, these hotels are for you.
The Broadmoor is hands down the nicest and most famous hotel in the state of Colorado. As one of the most highly rated hotels in the country, a multitude of famous athletes, celebrities, and politicians have stayed there. There is an entire hallway housing the portraits of significant people who have stayed there. Even if you are not going to be staying at the Broadmoor, I highly recommend you at least go there considering it is one of the coolest places in Colorado Springs. With three 18 hole golf courses, a premium spa, 10 full restaurants, 10 cafes and lounges, and 26 specialty retails shops, The Broadmoor is more like a self contained town than a resort. Not enough can be said for what The Broadmoor has to offer.
The 3 golf courses were designed by legendary professional golfers Donald Ross, Robert Trent Jones Sr, and by Nicklaus Design, brainchild of the iconic Jack Nicklaus. The courses have been home to the U.S. Women's Open, U.S. Senior Open, and the NCAA Championship. In fact, the U.S. Senior Open will be hosted there again summer 2018.
The Spa is one of the best spas in the country according to Forbes Travel Guide. The skilled practitioners honor the traditions of Spencer and Julie Penrose and tailor specifically to the needs of the guest exceptionally well.
The Broadmoor also offers a variety of sponsored activities. To name a few: fly fishing, rock climbing, mountain biking, and falconry. No matter what interests you about Colorado, you can probably do it through The Broadmoor.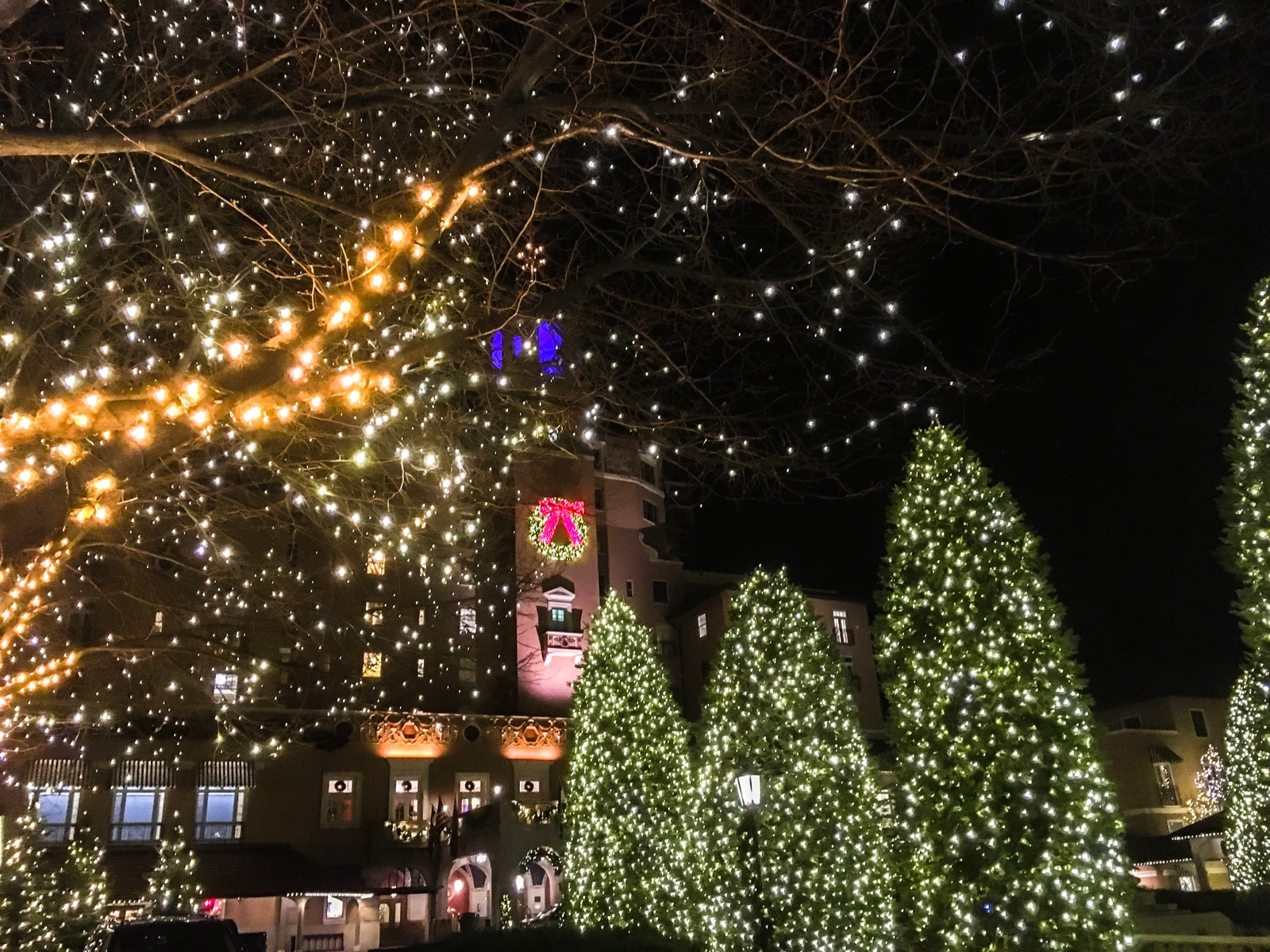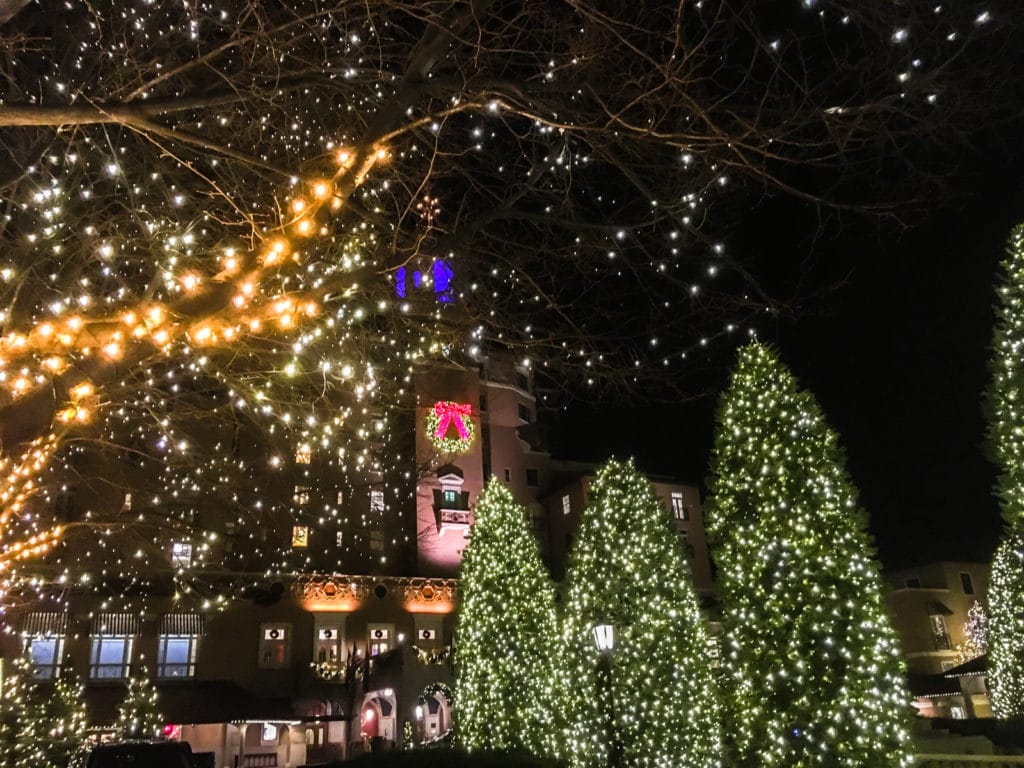 Dining at The Broadmoor is an absolute treat. With ten premium fine dining establishments, The Broadmoor has something for everything. Their capstone restaurant, the Penrose Room, named after founder Spencer Penrose, is unmatched in all of Colorado. Colorado's only Forbes five star restaurant, it offers European cuisine inspired by the seasons. Furthermore, equipped with expert sommeliers, you will find exactly the right wine for you palette.
From an accommodations perspective, you have a variety of options: rooms, suites, cottages, or the famous estate house. All are exquisitely designed and come with a multitude of luxurious amenities. All rooms are exquisitely designed and have beautiful bathrooms with bathtubs, showers, and include bathrobes. From such an immaculate hotel, you can expect immaculate rooms as well.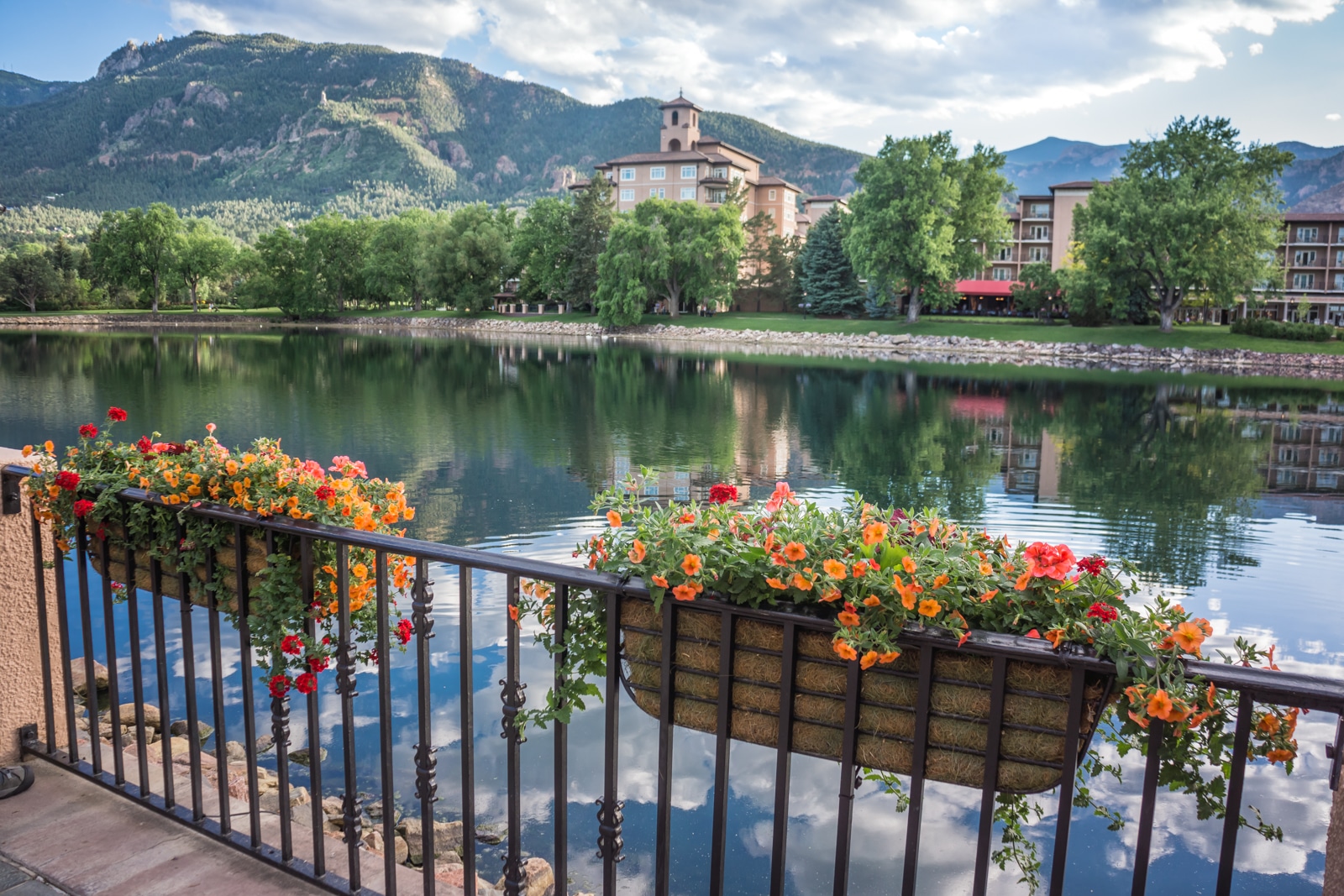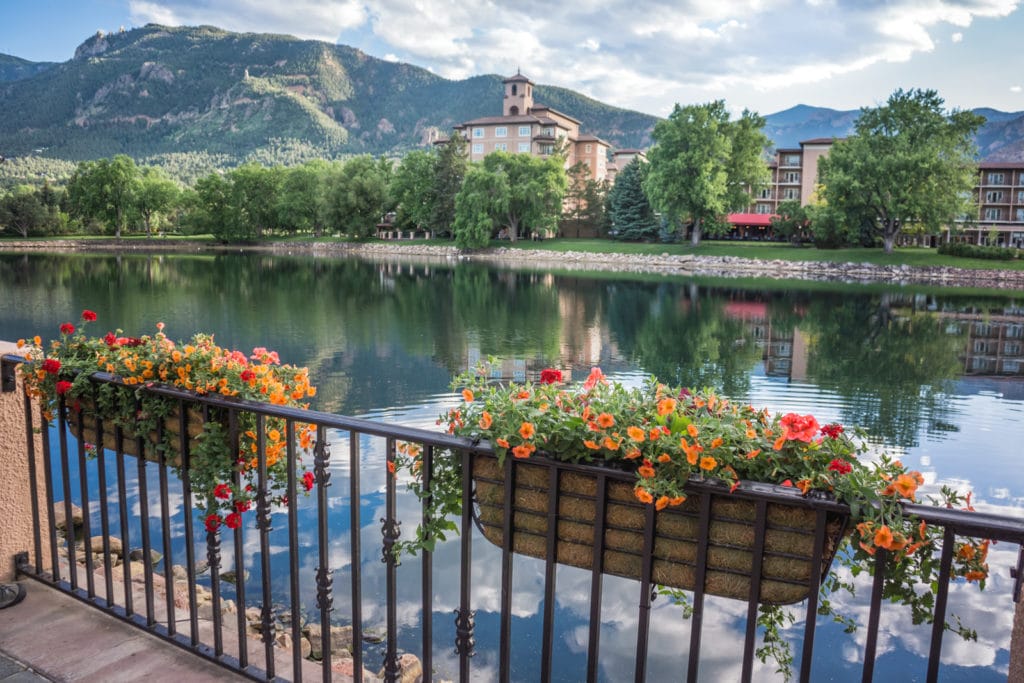 Overall, The Broadmoor features the best money can buy dining, in golf, in accommodations, and in activities. Expect to pay as such. Nonetheless, The Broadmoor is one of the highlights of Colorado Springs and a big reason why many people come. The bottom line: you must experience The Broadmoor at least once in your life.
The Garden of the Gods Club and Resort is the only hotel and resort actually in Garden of the Gods park. With a 27 hole championship golf course, multiple tennis courts, an entire recreation center, a premium full service spa, an elegant dining room, a resort style water park with olympic swimming pool and infinity pool overlooking the garden, and a delicious golf course grille, Garden of the Gods Club has everything you might expect from a luxury resort. Due to the inherent athletic appeal to the resort, it is best to book your stay here in the summer.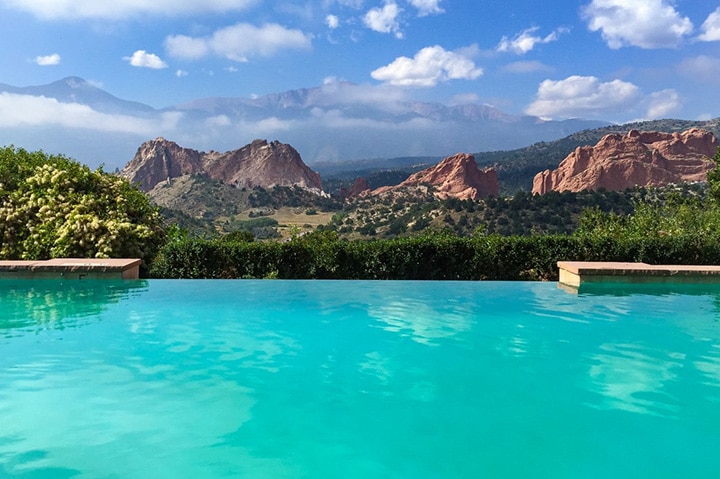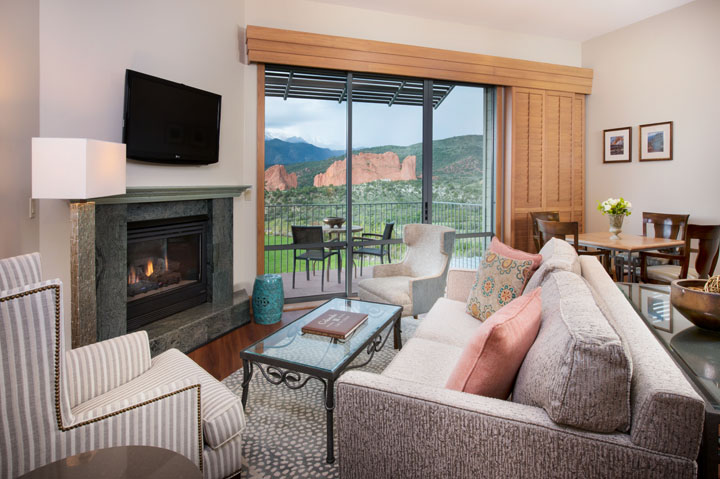 With beautiful views of the red rocks Garden of the Gods is known for rooms have absolutely stunning views. All rooms have private balconies to accentuate these views. Rooms also include a fireplace, a plasma screen TV, and plush robes.
Dining at The Garden of the Gods Club can be done at 1 of 2 restaurants, the Grand View Dining Room or the Kissing Camels grille. Both are rated excellently and are reviewed highly for great food. You can also relax at The Rocks Bar and Lounge where premium cocktails, beer, and wine are served.
Overall, this is an incredible resort with stunning views. With an emphasis on athletics and the outdoors this a great place to take the kids if you can afford it. Great food, beautiful facilities, luxuries amenities, and a magnificent view. What more can you ask for?
The mission of the Cheyenne Mountain Resort is to provide the quintessential Colorado experience to guests. They do just that. With an 18 hole golf course designed by Pete Dye, 5 indoor/outdoor pools, over 200 acres of land to roam, a premier spa and wellness retreat, 17 tennis courts and 9,000 sq. ft. fitness center, and a 35 acre private lake offering watersports and beach activities, you will never run out of things to do at the Cheyenne Mountain Resort.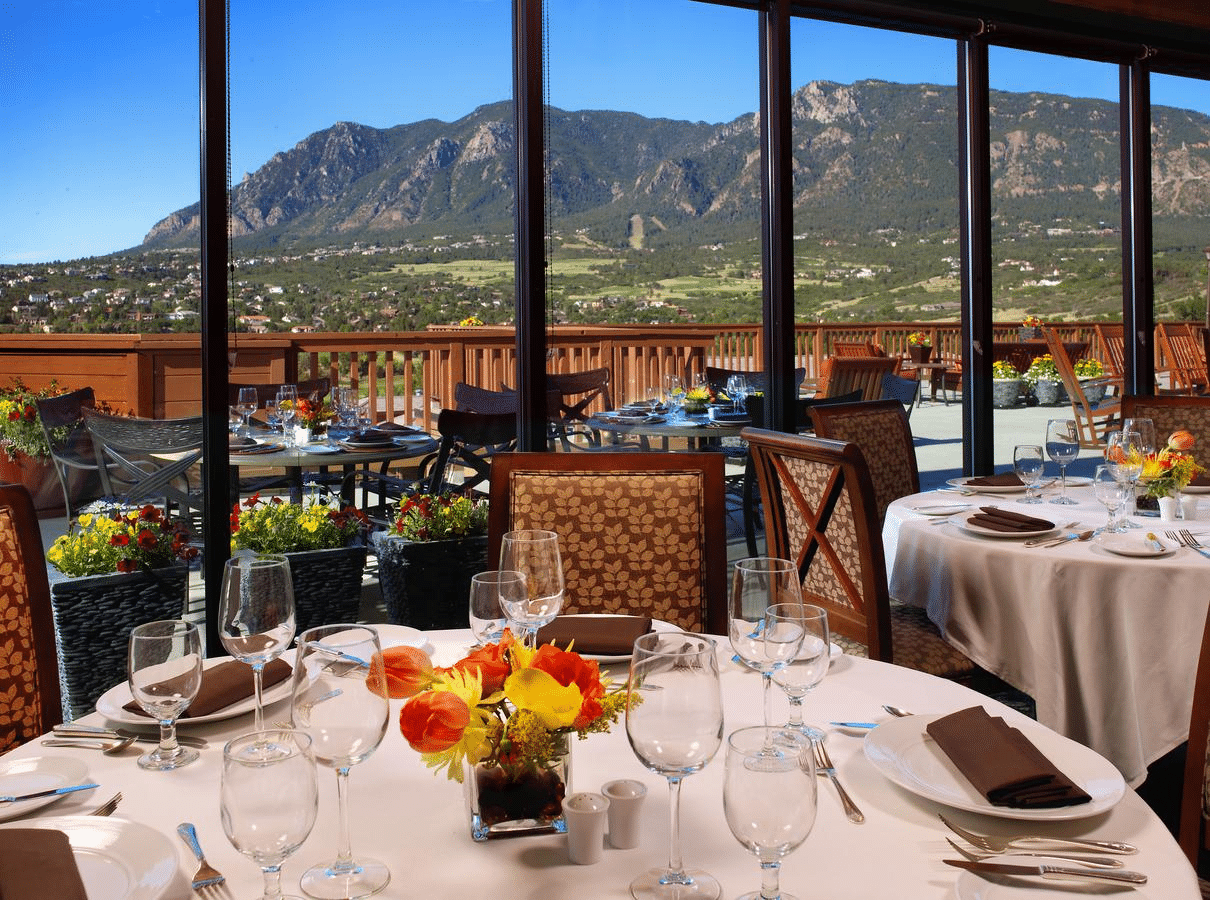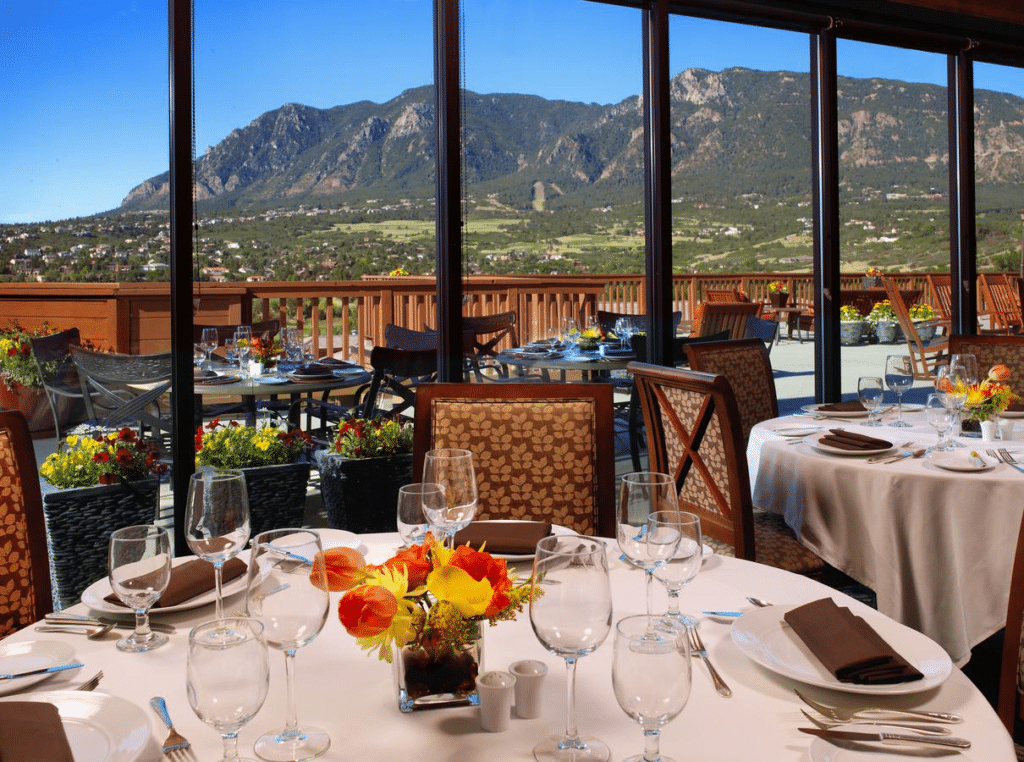 With 3 Colorado-Inspired Dining venues, eating is a privilege at the resort. The Mountain View Restaurant is the signature piece in the resort's dining experience and has a to die for buffet that rotates its menu every day.
Rooms have lemongrass sage toiletries, terry cloth robes, a flat screen TV, and highly rated comfortable beds. Whatever package of room you choose, you can guarantee that it will be cozy and luxurious.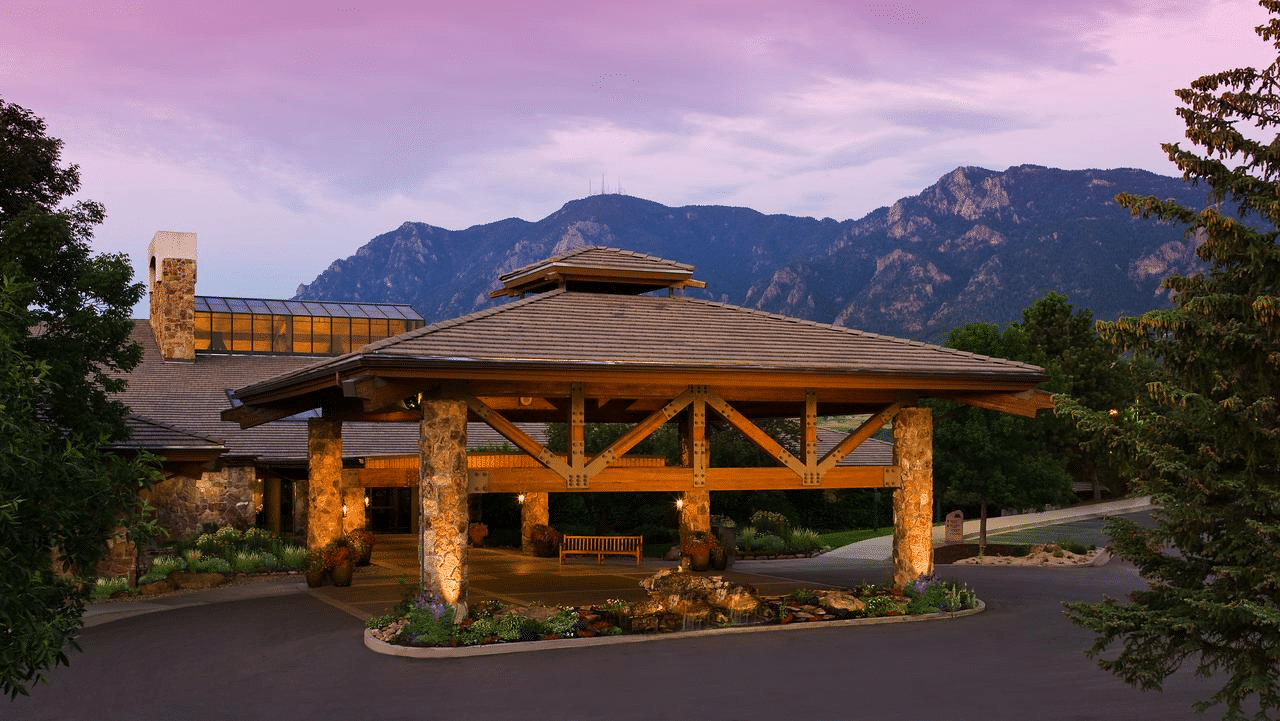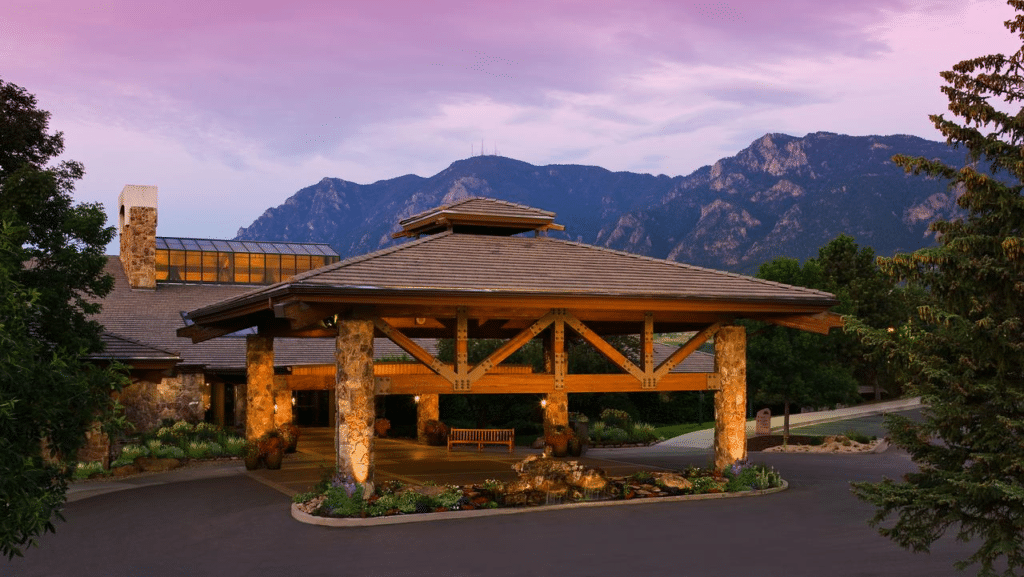 Overall, the Cheyenne Mountain Resort is exactly what you might expect in a luxury resort in Colorado. A mountain rustic atmosphere, fine dining, and a plethora of outdoor activity options. The Cheyenne Mountain Resort is one of the most highly rated resorts in Colorado Springs and is still relatively close to Garden of the Gods. It is a great option for a Colorado vacation.
This is the only Bed and Breakfast that made the list, but it truly is incredible. Originally owned by Colorado Springs pioneer Edwin Stark, the Inn has a rich history and decor. The suites are absolutely amazing and feel as though you are at an estate manor in the 1800's. Yet, with modern touches, the Inn is incredibly romantic.
The rooms have jet jacuzzi tubs, granite bathroom floors and counters, luxury stitch bedding, sheets that are starched and ironed regularly, and luxury robes. With beautiful decor, they are perfect for a romantic getaway. A home cooked breakfast is provided every morning and according to reviews, it is delicious.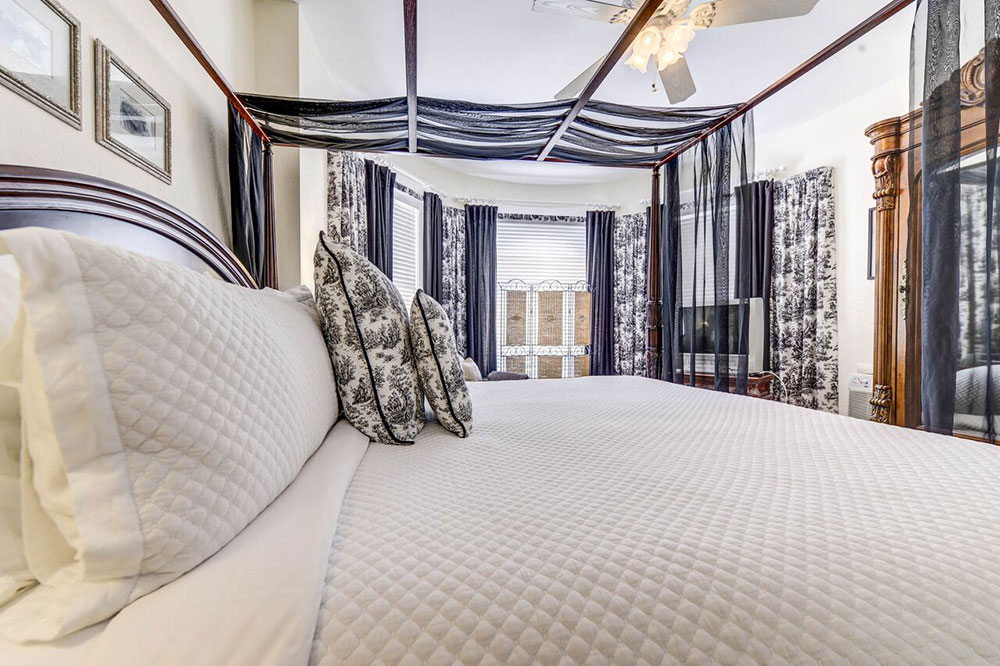 While it is not on the same level as a premium resort, it still falls within the luxury price range because the suites are so luxurious and romantic. It is the perfect destination for a couple to experience the beautiful nature of Colorado from the romantic perspective of the 1800's. If a quiet, romantic stay is what you are looking for, there is nothing better than The St. Mary's Inn, Bed and Breakfast.
Conclusion
Garden of the Gods is the highlight of Colorado Springs because of its central location to everything in the city and its radiating beauty. It comes as no surprise that there are so many hotels near the garden. No matter the price range, hotels near Garden of the Gods have so much to offer for anybody visiting Colorado or even locals looking for a weekend getaway.
Book your stay at one of the hotels today, and be sure to mention GardenoftheGodsColorado.com sent you! If none of the above match your needs, Colorado Springs has many other highly rated hotels.