Are you looking for a great place to stay in Colorado Springs? Airbnb offers plenty of unique options. From quaint Victorian cottages to modern lofts to spacious custom homes, Colorado Springs Airbnb properties give travelers a chance to break away from the typical hotel room and enjoy some local hospitality. Whether you're traveling with family on vacation or need a place to work during a business trip, you'll find a multitude of choices on Airbnb.
Need some help with your search? Never fear—we've scanned numerous Airbnb listings in the Colorado Springs area to bring you 10 top-rated properties that reviewers love.
Great Colorado Springs Airbnb properties for families/groups
This quaint cottage built in 1926 sits just outside of Garden of the Gods, so you can walk into the park! The owners say it is the closest rental to Garden of the Gods — period. No need to get in the car to reach one of the park's trails. That's a big deal because on a busy day it's almost impossible to find a place to park. But when you're ready to see other local attractions like Pikes Peak, Cave of the Winds, or Seven Falls, you won't have far to drive.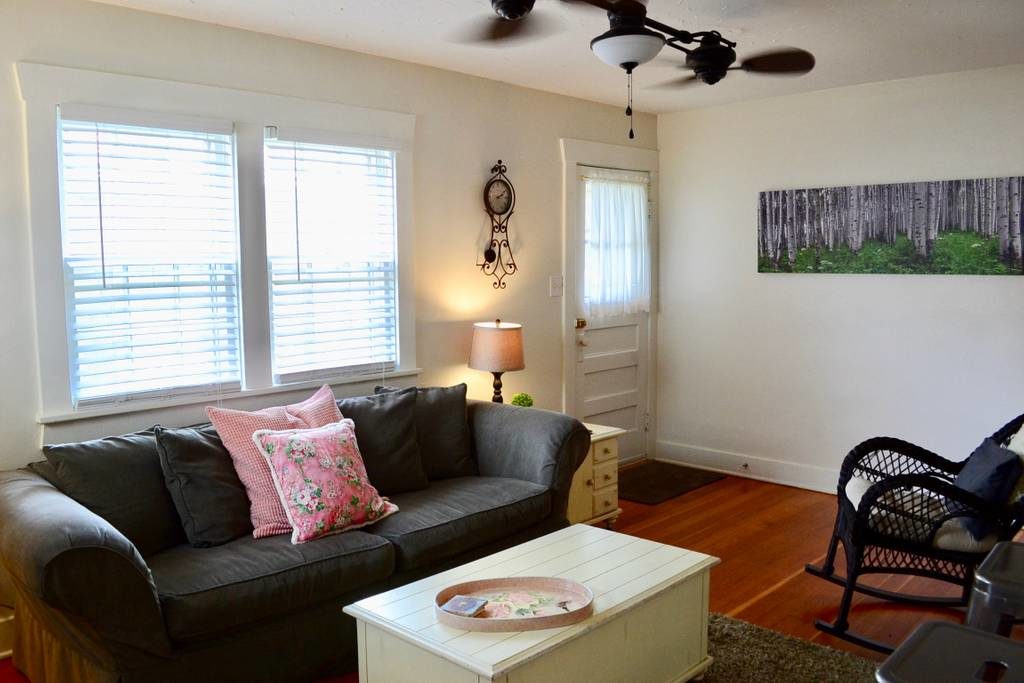 Reviewers loved the comfortable beds, the peacefulness of the neighborhood, and the complimentary bottle of wine.
One review said:
Really close to trails if you are into exploring, but nice and secluded if you want to be left alone.
$120 per night
Entire house
Guests: 4
Bedrooms: 2
Bathrooms: 1
Great for families, work
The quirky Old Colorado City neighborhood on the west side of Colorado Springs makes the perfect home base for exploring area attractions. If you're traveling with a larger group, consider this house with plenty of room for everyone. It's especially good for families with kids—they'll love all the toys downstairs. Enjoy cool Colorado nights in the backyard around the fire pit, or cozy up for a movie on the 50-inch TV.
One reviewer wrote, "We enjoyed the privacy of the gated patio almost every night and how close we were to Old Colorado City restaurants, shopping, and night life."
$150 per night
Entire house
Guests: 14
Bedrooms: 5
Bathrooms: 2
Great for families
Soak in the funky vibe of Manitou Springs with this modern apartment located smack dab in the middle of town. Walk to Manitou's shops, restaurants, and bars from this second-floor loft—or stay home and take in the gorgeous mountain view from the balcony. You'll appreciate the private parking space in a town where parking can be very, very scarce.
Reviewers praised the cleanliness of the loft and its proximity to the Mona Lisa fondue restaurant and wine bar located below (owned by the same people as this property).
One reviewer said:
One [of] my personal highlights was sitting on the balcony overlooking the street, listening to the live music being played on the sidewalk, and watching people dancing and enjoying a lovely evening.
$132 per night
Entire loft
Guests: 6
Bedrooms: 2
Beds: 3
Bathrooms: 1
Great for families, couples, work
Between 1890 and 1900, a nearby gold strike created a middle and upper class in Colorado Springs. Many of the beneficiaries put in distinctive Victorian homes near Colorado College. Today, this neighborhood is local gem and the envy of many home owners.
Get a taste of the Old North End at a newly remodeled bungalow reviewers rave about. This property is especially good for families with kids as reviewers mention the toy room and even pancake mix and syrup available for breakfast.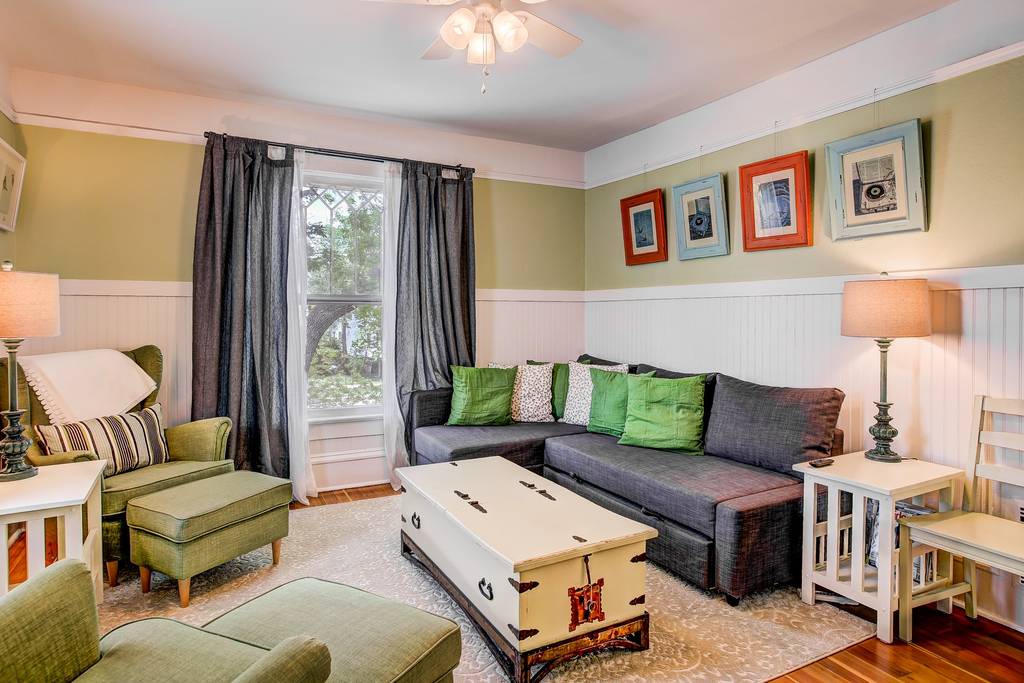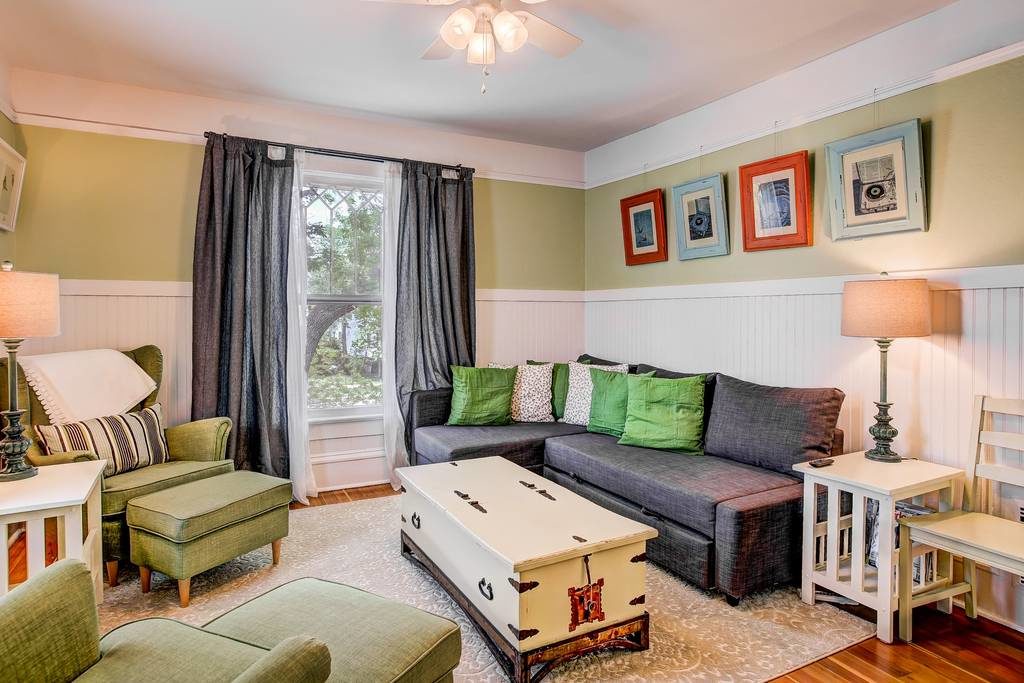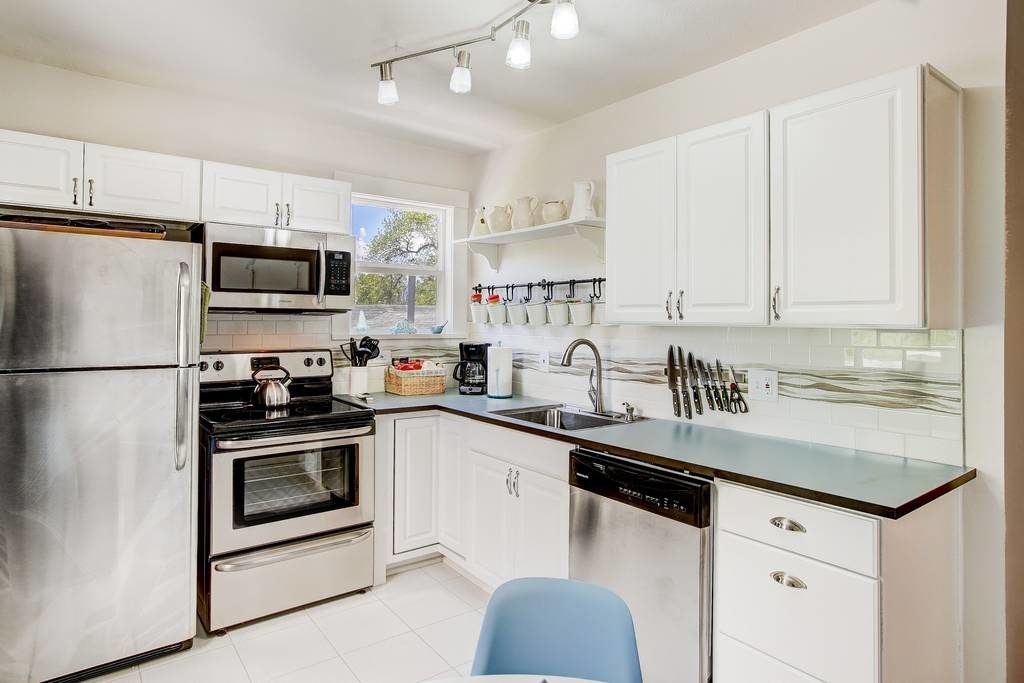 The property is located just 1 mile from Colorado College and downtown and appears to be a steal!
"Every room looks like something out of "Better Homes and Garden!" The place is immaculately clean and has everything you need to walk right in and live, but nothing you don't, no clutter. Exceptional place for a family with children," a reviewer said.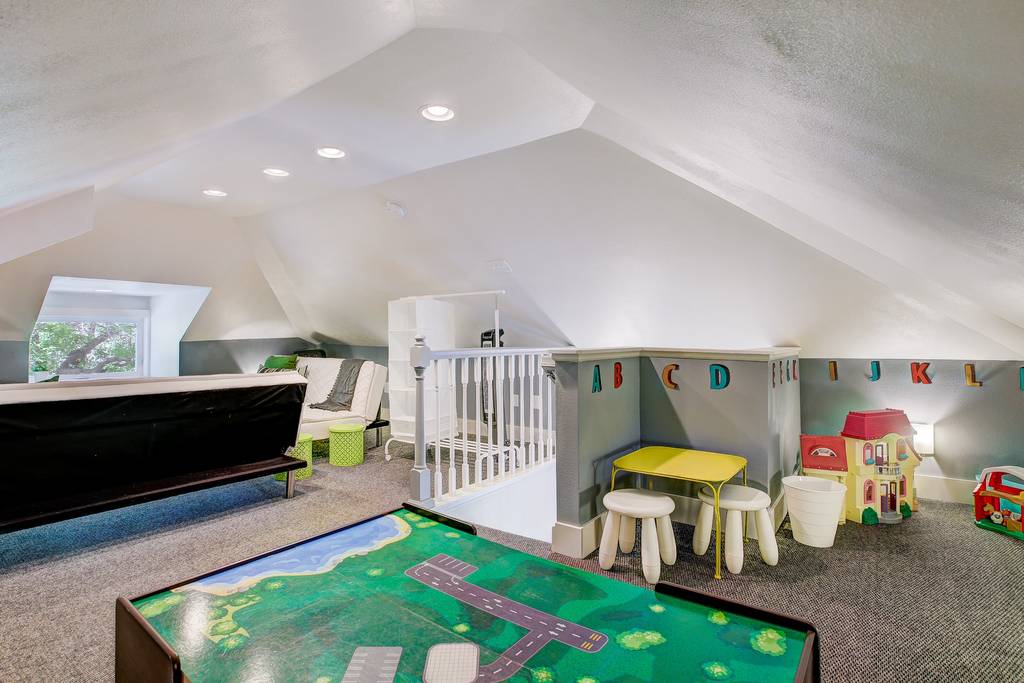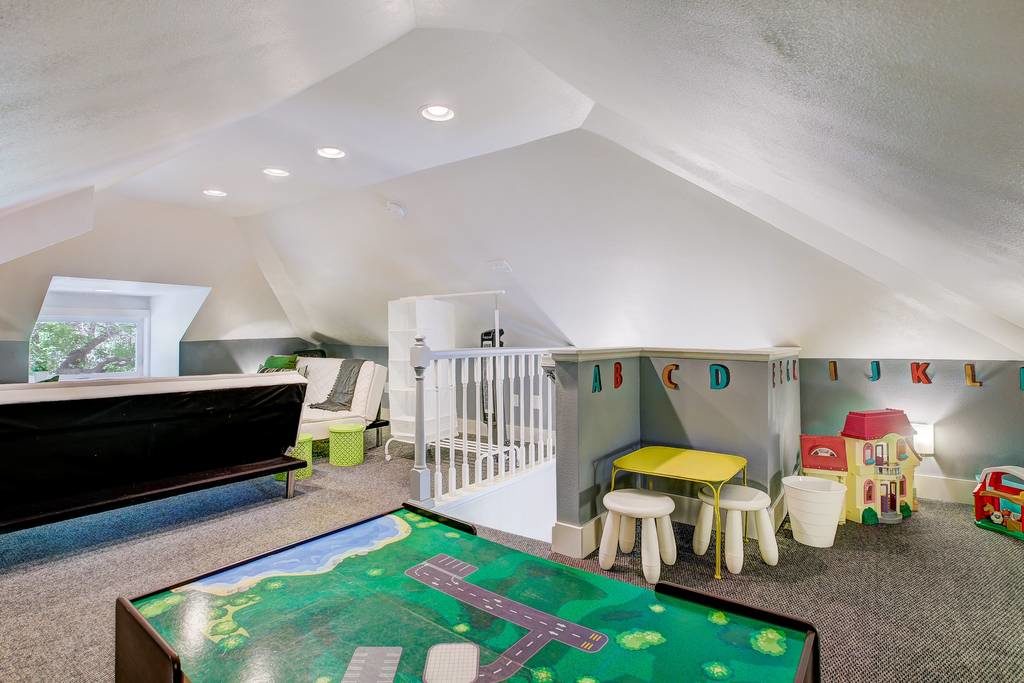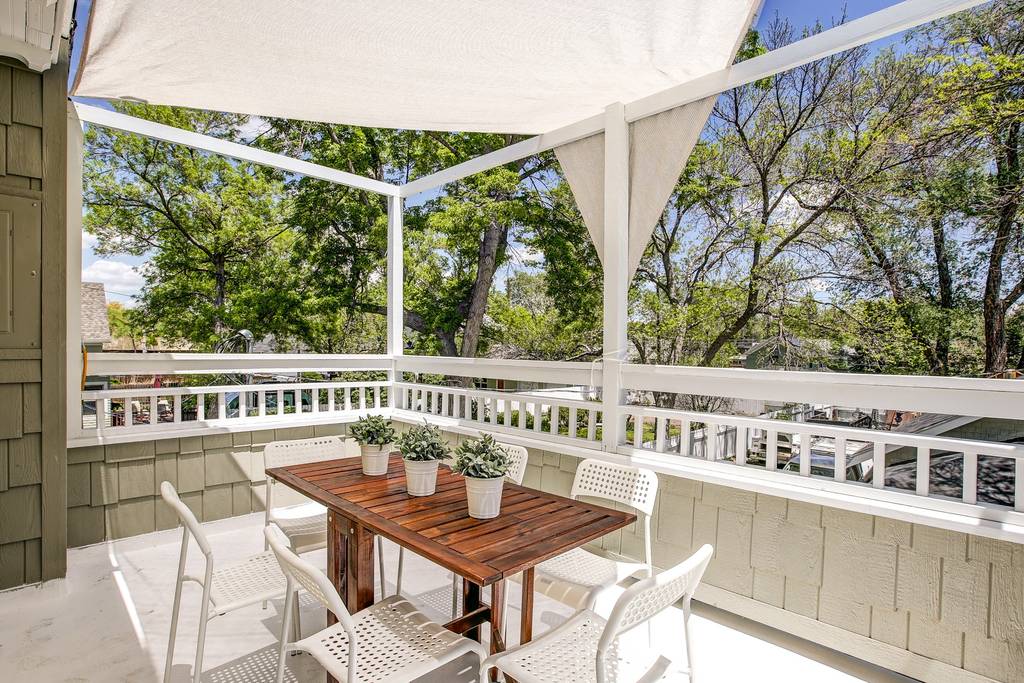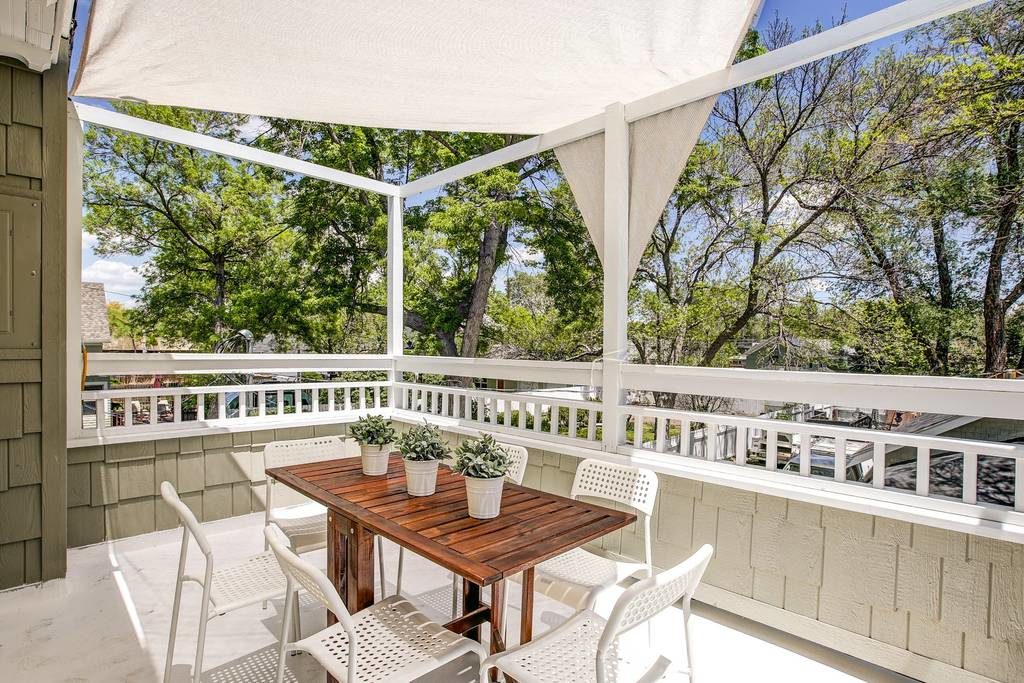 $129 per night
Guests: 8
Bedrooms: 2
Beds: 5
Bathrooms: 2
Great for families, business
This contemporary custom home will wow you. Floor to ceiling windows and doors let you feel at one with the beauty of the foothills on the west side of Colorado Springs. Feel pampered by a kitchen with two stoves and two sinks and a master suite with an espresso bar. Step out the back door to find thousands of acres of trails in North Cheyenne Canon park, a favorite of locals. And it's very kid-friendly.
Reviewers loved the views and the architecture of the home.
The big living room and kitchen were great for our larger group and the kitchen has lots of great cooking equipment that came in handy.
If you are looking for an Airbnb Colorado Springs Broadmoor option, look no further!
$360 per night
Guests: 14
Bedrooms: 5
Beds: 10
Bathrooms: 4
Great for families, work
Great Colorado Springs Airbnb properties for couples and work
If you're looking for a true Colorado mountain getaway, this could be the place for you. It's an actual log cabin in a very secluded area. It's about 25 minutes from Colorado Springs, but the drive is beautiful. Cozy up to the fireplace on those chilly evenings, and don't be surprised if deer come right up to the cabin. If you like to hike, you're close to the trails around Catamount Reservoir in Pike National Forest.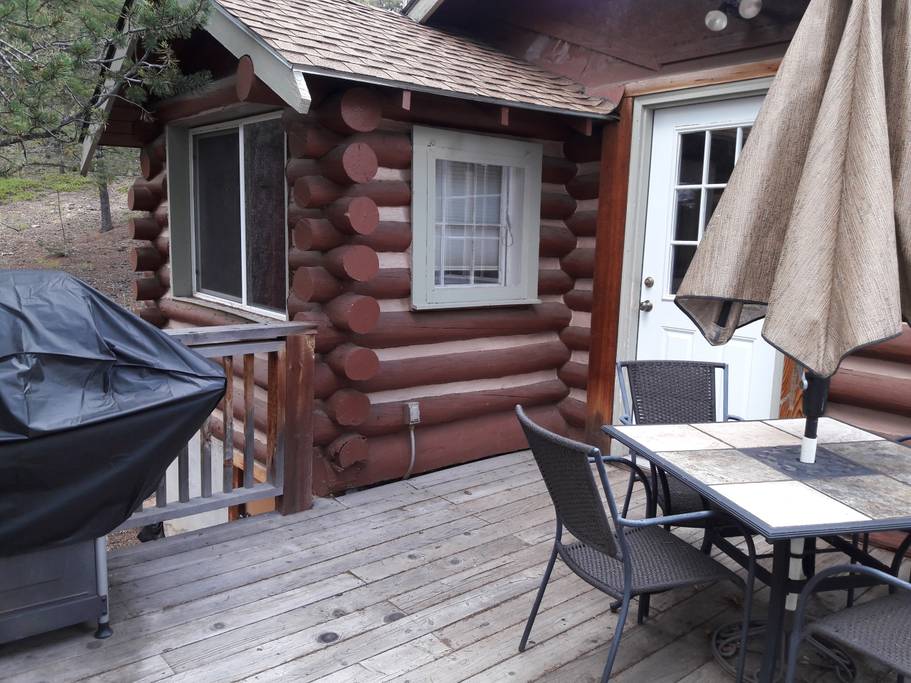 One reviewer raved:
This little cabin in the woods was so cozy. The view driving to it was beautiful and the peacefulness of the mountains was much needed.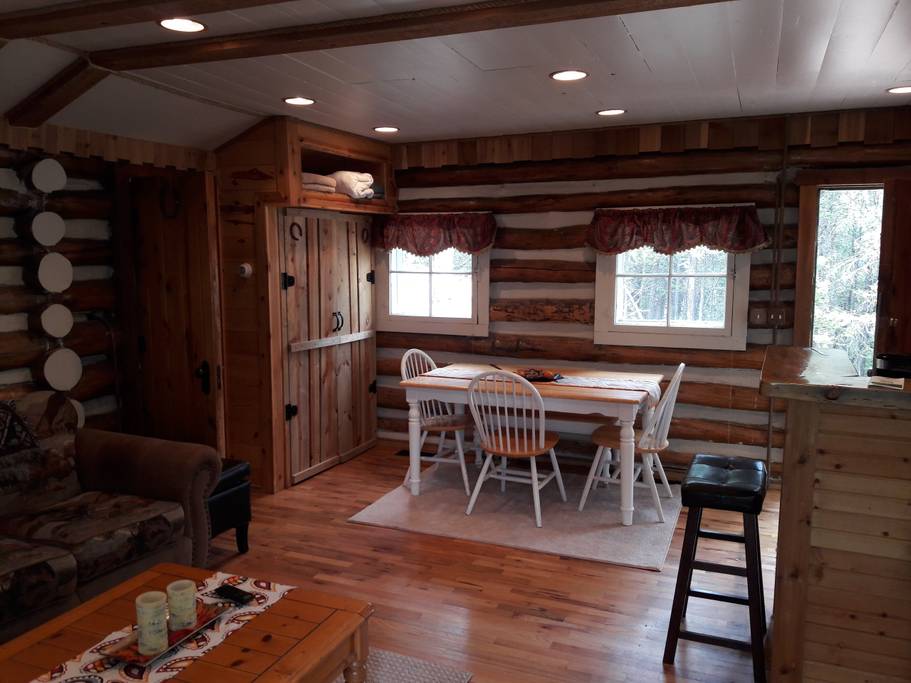 $75 per night
Guests: 2
Bedrooms: studio
Beds: 1
Bathrooms: 1
Great for couples
Located in historic downtown Colorado Springs, this 1898 cottage offers quirky amenities like an old-school record player (and records), bicycles, flip-flops to wear to the hot tub, and a vintage typewriter. It's very close to Colorado College as well as restaurants, bars, and shopping.
Reviewers praised the personal touches from the host, from fresh fruit and bagels to French press coffee to postcards already affixed with stamps! "The neighborhood was historic and gorgeous, yet quite close to hip nightlife," one reviewer said.
Entire guesthouse
$95 per night
Guests: 3
Bedrooms: 1
Beds: 2
Bathrooms: 1
A few blocks from the U.S. Olympic Training Center you'll find this quiet, private, and budget-friendly apartment. It includes a kitchenette with a stovetop and microwave, a huge shower, and a bedroom with a fireplace. You'll have access to a gym and laundry room shared with the owner.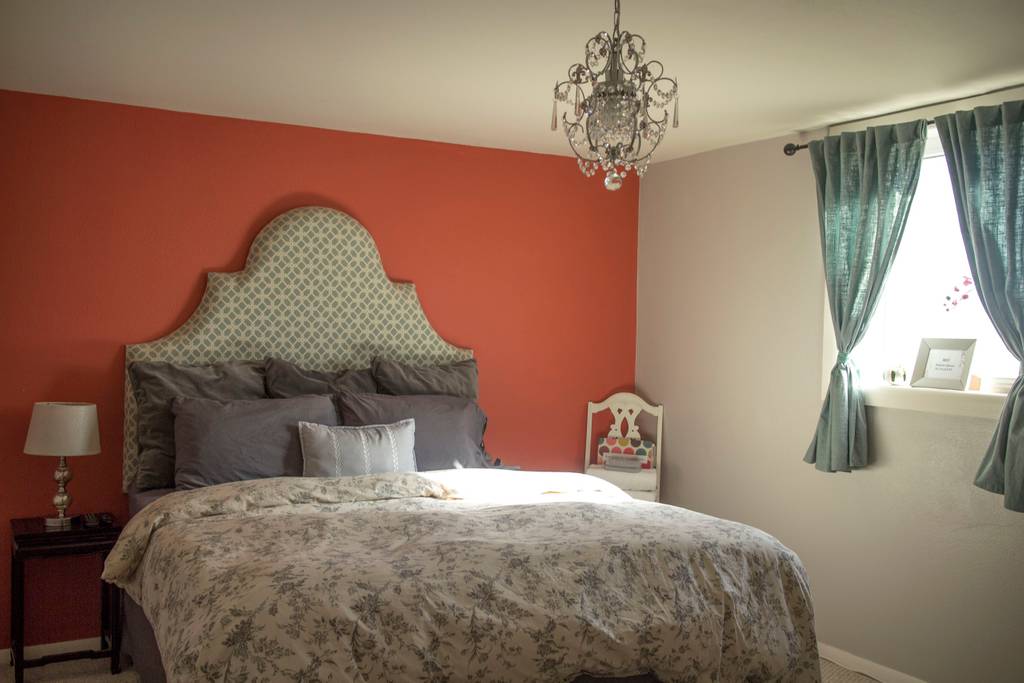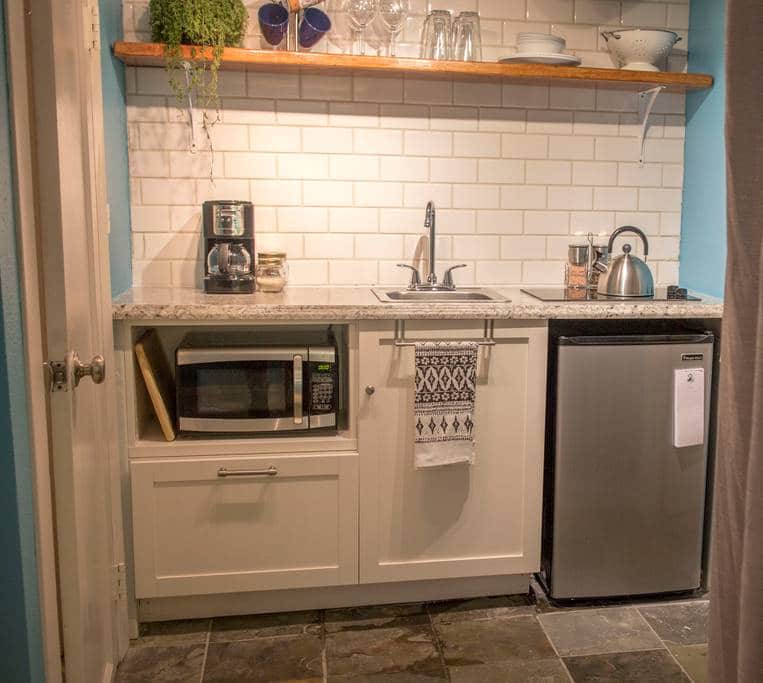 Reviewers said the host made the place feel like home. "Jacquie had the fireplace going and relaxing music playing when we arrived. It was a great first impression and created a wonderful ambiance in the space. Everything was clean and inviting."
Entire guest suite
$50 per night
Guests: 2
Bedrooms: 1
Beds: 1
Bathrooms: 1
Great for couples, work
This thoughtfully decorated Old Colorado City apartment encompasses the second floor of a guesthouse of an 1890s Victorian. Open the French doors on a cool summer evening to enjoy relaxing on your massive private deck. Or, soak in the hot tub on the grounds below after a glass of wine next to the fire pit. Inside, a fully stocked kitchen makes cooking convenient, and the smart TV is already connected to Netflix, Hulu, and Amazon Prime.
One reviewer wrote:
Perfect and cozy, this place feels like home! Comfortable bed, good amount of TV channels, and sparkling clean!
Entire apartment
$67 per night
Guests: 3
Bedrooms: 1
Beds: 2
Bathrooms: 1
Great for couples, work
Just west of Colorado Springs and very near the entrance to the Pikes Peak Highway is the charming Sanctuary of the Rose Guesthouse. This historic 1934 adobe guesthouse gives a Colorado mountain experience without sacrificing easy access to all of the nearby offerings of Colorado Springs.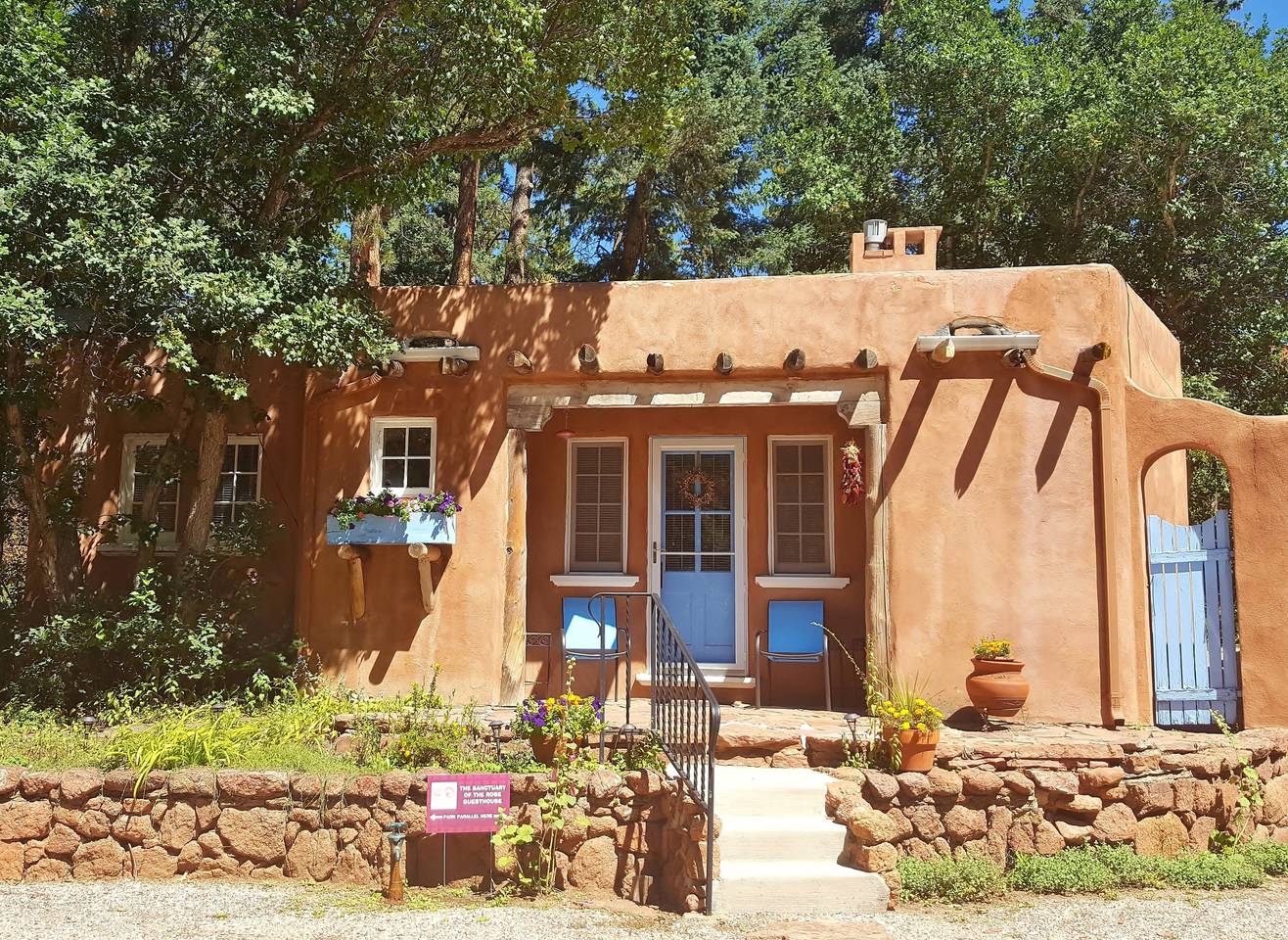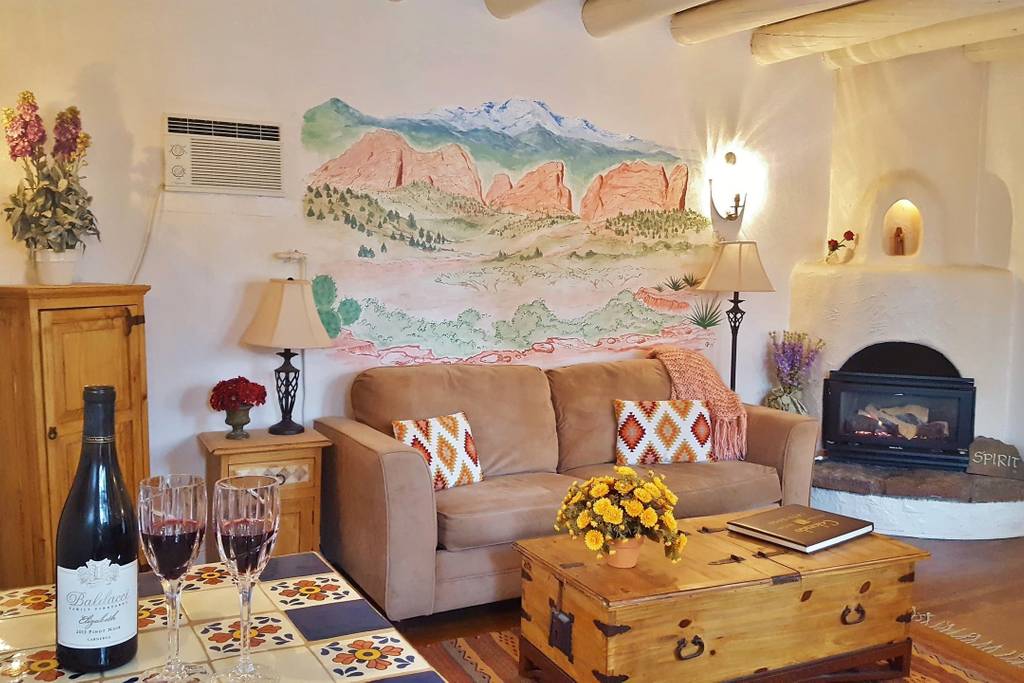 This guesthouse is perfect for two with a queen bed, luxury linens, a full bath, and a mini kitchen stocked with gourmet coffees and teas.
Sanctuary of the Rose guests enjoy a private outdoor patio overlooking the mountains and frequented by deer and hummingbirds.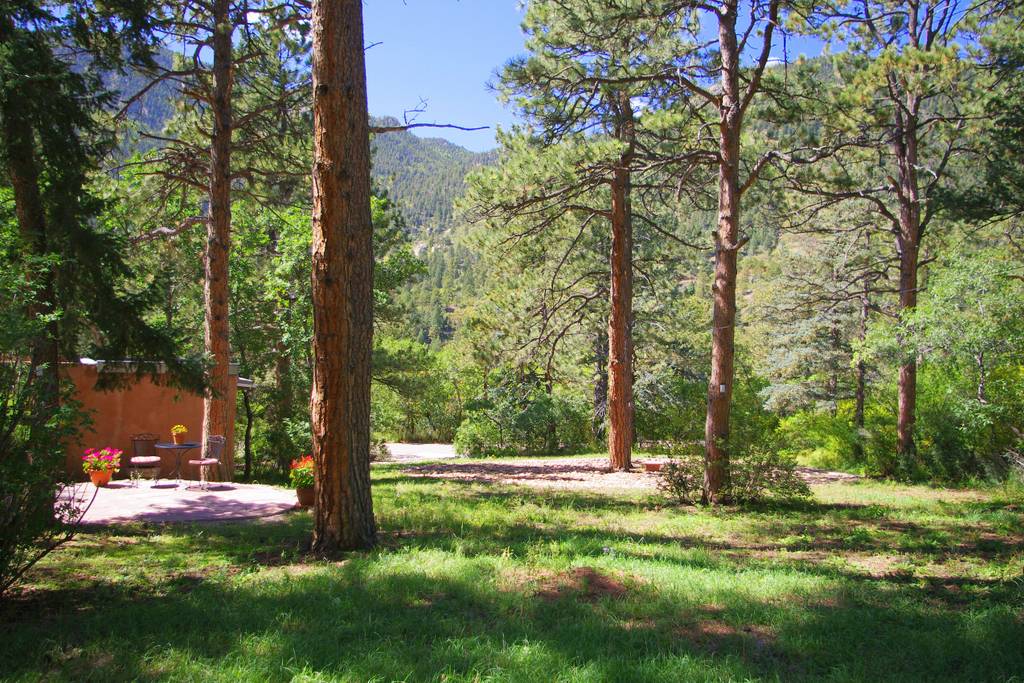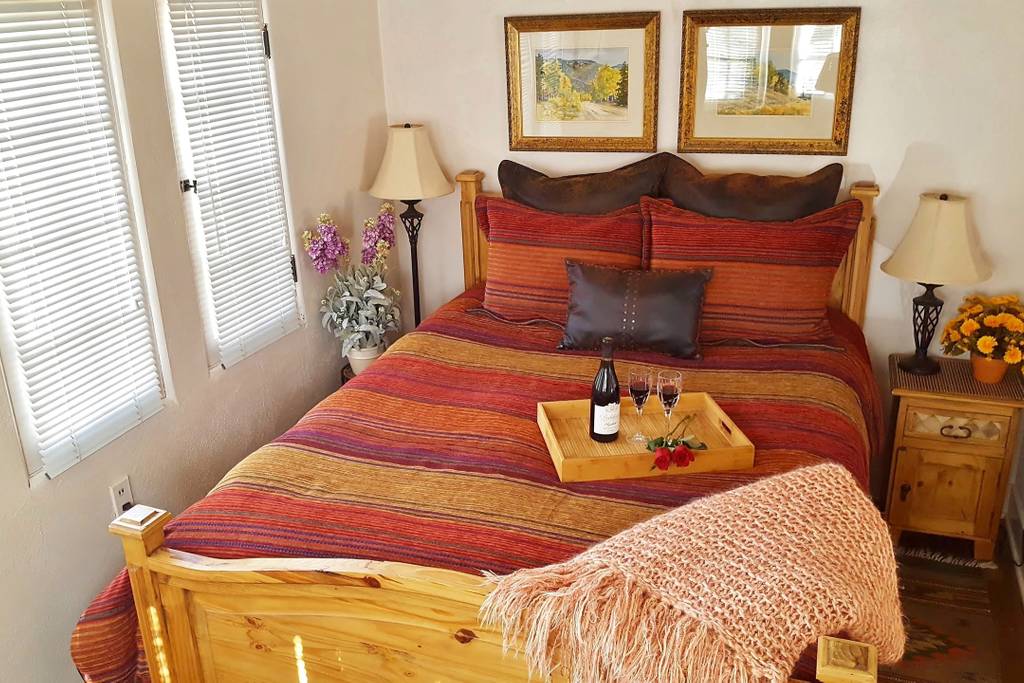 One reviewer says:
"Great location for visiting Pikes peak, Garden of the Gods, Red Rock Canyon, Manitou Incline! So close to Manitou Springs and Old Colorado City. A Very quiet, beautiful and peaceful retreat!!!"
Entire guesthouse
$99 per night
Guests: 2
Bedrooms: 1
Beds: 1
Bathrooms: 1
Great for couples, rest, access to Pikes Peak and Garden of the Gods
---
After you book your Colorado Springs Airbnb, enjoy your stay—and tell your hosts that you found their Airbnb on gardenofthegodscolorado.com!
Looking for a hotel room instead? We've also compiled a list of hotels near Garden of the Gods for every price range, from familiar chains to award-winning resorts.